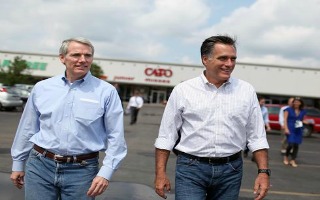 With the political conventions behind us, the nation's politicians and the political press have turned their attentions to speculating about the upcoming presidential and vice presidential debates. BuzzFeed reporter Zeke Miller's report on Romney's extensive debate preparation reveals that, by virtue of his campaign's display of confidence, they may already be losing October's debates.

In BuzzFeed's "How Mitt Romney Is Losing The Debate Expectations Game," Miller outlines how the Romney campaign is failing to achieve the appropitate note of humility required for the press to take the GOP presidetial candidate seriously.
"We're going to be ready — very ready to face the president and we're going to win," a Romney aide told BuzzFeed of their efforts to prepare Gov. Romney for the upcoming debates.
By raising expectations, BuzzFeed's Miller writes that the campaign may be setting themselves up for failure.
The Romney campaign has chosen simply to exude confidence about the upcoming contests — an attempt to counterbalance the gloomy mood set by Obama's post-convention polling bounce, talking at length about Romney's preparation, something the White House has done not at all.
President Barack Obama's campaign, meanwhile, has opted to manage the press' expectations. Miller quotes campaign spokesperson Ben LaBolt who praised Romney's debating prowess and mentions a New York Times piece which quotes Obama aides fretting that the president has put off his debate preparation.
Should Romney fail to land anything short of a knockout blow in the debates, the implication of Miller's piece is that the press will declare Obama the winner by default.
"If the trend continues, Romney may need to do handstands on stage to make in impression, while the president will win simply by keeping his shirt on," Miller writes.
If the question is managing expectations, President Obama seems to have a lower bar to crest with BuzzFeed's reporters than skeptical voters.
Read the full post via BuzzFeed
> >Follow Noah Rothman (@Noah_C_Rothman) on Twitter
Have a tip we should know? [email protected]