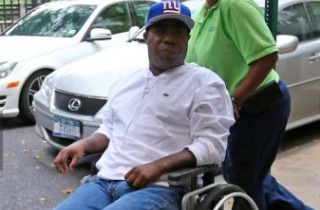 It was approximately one year ago when a Walmart tractor trailer smashed into Tracy Morgan's car, severely injuring the 30 Rock star, killing his friend James McNair and injuring two others. On Wednesday, Morgan ended his lawsuit against the superstore after reaching a settlement agreement in Newark federal court. McNair's family received a previous wrongful death claim in January.
"Walmart did right by me and my family, and for my associates and their families," said Morgan. Morgan's attorney, Benedict P. Morelli, spoke on the about the mutually-agreed terms of the settlement, wherein Walmart revised their position that Morgan and McNair were not wearing seatbelts, instead agreeing to be held accountable. "Walmart took full responsibility for the accident, which we greatly appreciate," said Morelli. Kevin Roper, who was driving the truck, has been charged with vehicular homicide and assault by auto.
The crash on the New Jersey Turnpike left Morgan with a brain injury and a broken leg, nose, and ribs. He has been seen walking with a cane this month as part of his recovery.
Walmart CEO Greg Foran also released a statement today to offer his sympathies to everyone involved in the accident. "While we know there is nothing that can change what happened, Walmart has been committed to doing what's right," he sad. "We are pleased to have reached an amicable settlement that ends this litigation. We are deeply sorry that one of our trucks was involved."
In court papers filed on Wednesday, lawyers for Walmart, Morgan, Jeffrey Millea and Ardley Fuqua asked a judge to keep the negotiation records and settlement details private, as per Morgan's terms.
[h/t ABCNews]
[Image via Screengrab]
Have a tip we should know? tips@mediaite.com