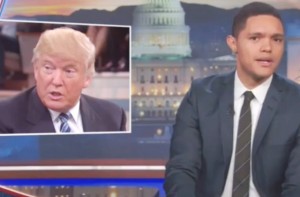 Hot off his big interview with Tomi Lahren last week, Trevor Noah has an op-ed out in The New York Times today saying that America can't be so divided because that's exactly what Donald Trump wants.
Noah starts out his piece on coming together by reflecting on how his predecessor is oft remembered:
Jon [Stewart] never liked being labeled the Great Eviscerator. He didn't think it was healthy, and he always tried to think about the details of issues with a healthy dose of skepticism before going on air and putting his ideas out into the world. But through the lens of the internet, that's not what people saw. In the early days of the blogosphere and YouTube and social media, people took Jon's most strident commentary and made it go viral with clickbait headlines, blowing those segments way out of proportion, compared with the more thoughtful segments that made up most of the television show.
Noah drew from his experiences growing up in apartheid South Africa to talk about how the more divided a population is, the more "authoritarian figures like Mr. Trump" thrive on it.
"The past year has been so polarizing and noxious that even I find myself getting caught up in the extreme grandstanding and vitriol," he said. "But with extremes come deadlock and the death of progress. Instead of speaking in measured tones about what unites us, we are screaming at each other about what divides us… Divided people are easier to rule."
But Noah, who recently pointed to "whiteness" and "misogyny" as two big reasons why Trump won, made this call for coming together:
Sadly, given what we've seen in this election, Mr. Trump's victory has only amplified the voices of extremism. It has made their arguments more simplistic and more emotional at a time when they ought to be growing more subtle and more complex. We should give no quarter to intolerance and injustice in this world, but we can be steadfast on the subject of Mr. Trump's unfitness for office while still reaching out to reason with his supporters. We can be unwavering in our commitment to racial equality while still breaking bread with the same racist people who've oppressed us. I know it can be done because I had no choice but to do it, and it is the reason I am where I am today.
You can read his full op-ed here.
[image via screengrab]
— —
Follow Josh Feldman on Twitter: @feldmaniac
Have a tip we should know? tips@mediaite.com
Josh Feldman - Senior Editor