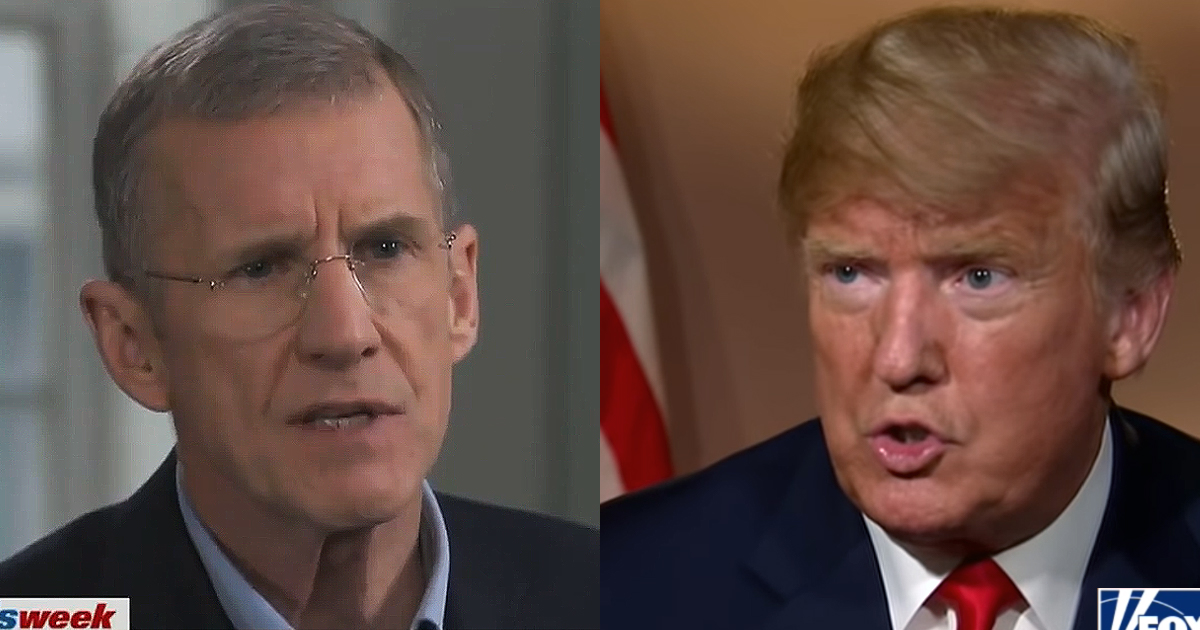 Lifelong civilian President Donald Trump on Twitter attacked former Commander of U.S. Forces in Afghanistan Gen. Stanley McChrystal on New Year's Day, over the retired soldier's comments on ABC's This Week on Sunday.
The president's tweet was prompted by something he got from a Fox News personality, unsurprisingly. Fox's Laura Ingraham tweeted a story from her Lifezette website about the General, and Trump was retweeting her when he made his comments.
"General" McChrystal got fired like a dog by Obama. Last assignment a total bust. Known for big, dumb mouth. Hillary lover! https://t.co/RzOkeHl3KV

— Donald J. Trump (@realDonaldTrump) January 1, 2019
On Sunday, McChrystal called Trump "immoral" and said that he doesn't tell the truth to people.
Trump's "like a dog" reference was to the Obama-era firing of McChrystal for expressing his displeasure with President Obama's Afghanistan policy and decision-making. At the time, the press generally disfavored McChrystal's speaking out against the president… something that is praised often by the media in those who work for Trump. Conversely, McChyrstal was widely praised on the right for his stand against Obama, even as recently as last year at right-wing website Breitbart.com. Taking such a stance against Trump is sometimes called "treason" on the MAGA right.
So… things change.
McChrystal was replaced by Gen. David Petraeus, incidentally. So everything worked out super great.
In his tweet, Trump put the word General in scare quotes, implying McChrystal didn't deserve the rank and title. Even when Obama fired him, the administration praised the General's military achievements, which in fact were many. Though obviously his achievements or former status as Obama-foil were not top-of-mind for the current "commander in chief" on New Year's day.
[Featured image via screengrab]
—
Follow Caleb Howe (@CalebHowe) on Twitter
Have a tip we should know? tips@mediaite.com