Trump Fires Back at NY Times Over Reporter Mockery With a Barrage of Insults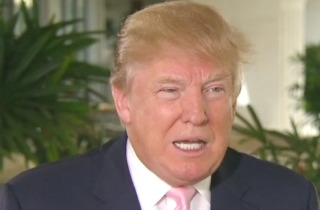 Y'all know how this works by now: Donald Trump does something outrageous, he gets condemned for it, and his response is to blithely insult the people going after him.
This time, the outrage involves Donald Trump's mockery of a New York Times reporter with a congenital condition. Why would he do something like that? Because it's Trump what do you expect after Trump made the untrue claim that thousands of Muslims in New Jersey cheered on 9/11, people directed him to a Washington Post article written by now-NYT reporter Serge Kovaleski that in no way backs up Trump's "thousands" claim, only saying that there were "a number of people" detained and questioned over "tailgate-style parties."
Kovaleski refuted Trump's assertion that his report backs up his comments, and at a rally last night, Trump flailed his arms around in mockery as he responded. Kovaleski has arthrogryposis, which affects the motion of his joints.
The Times condemned Trump's "outrageous" antics, and rather than considering the possibility that maybe mocking a man for his disability is a dickish thing to do, Trump responded by insulting The New York Times and its circulation:
The failing @nytimes should be focused on good reporting and the papers financial survival and not with constant hits on Donald Trump!

— Donald J. Trump (@realDonaldTrump) November 26, 2015
The @nytimes is so poorly run and managed that other family members are looking to take over control. With unfunded liabilities-big trouble!

— Donald J. Trump (@realDonaldTrump) November 26, 2015
The dopes at the @nytimes bought the Boston Globe for $1.3 billion and sold it for $1.00. Their great old headquarters-gave it away! So dumb

— Donald J. Trump (@realDonaldTrump) November 26, 2015
So, since the people at the @nytimes have made all bad decisions over the last decade, why do people care what they write. Incompetent!

— Donald J. Trump (@realDonaldTrump) November 26, 2015
The numbers at the @nytimes are so dismal, especially advertising revenue, that big help will be needed fast. A once great institution-SAD!

— Donald J. Trump (@realDonaldTrump) November 26, 2015
[image via screengrab]
— —
Follow Josh Feldman on Twitter: @feldmaniac
Have a tip we should know? tips@mediaite.com
Josh Feldman - Senior Editor