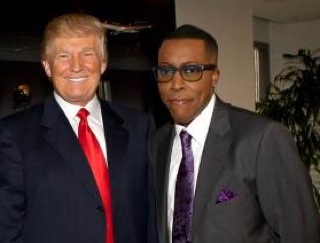 Donald Trump has definitive proof that he is not a racist, and the birther crusade has nothing to do with the fact that the President is black: the winner of Celebrity Apprentice. Speaking to the North Carolina Republican Convention, Trump explained that he was still curious about the nature and origins of the President's birth certificate, but confronted with claims that he was racist, he brushed them off, noting, "I just picked Arsenio Hall!"

RELATED: Just So We're All Clear, There Is No Way Donald Trump Is Actually A Birther
Trump appeared before the group to discuss Mitt Romney's presidential chances and his treatment of the media, but the birth certificate issue, as always, came up. This time, he had a quick response to the race claims:
He dismissed that his motives were based in race by citing his recent decision to award African American actor Arsenio Hall the winner of his reality TV show "Celebrity Apprentice."

"Somebody said, 'Oh, because I brought up the birth certificate, I'm a racist. I said, 'How can I be a racist, I just picked Arsenio Hall," said Trump.

Asked after the event why he continues to bring up the issue of the president's birth certificate, Trump said it was the demand from people who want to hear him talk about it, pointing out that the loudest applause line of his nearly hour-long speech came when he was questioning the president's birthplace.
No word on whether Hall himself has addressed the fact that is somehow the new grenade tossed into the birth certificate controversy.
[h/t]
—–
» Follow Frances Martel on Twitter
Have a tip we should know? tips@mediaite.com