Trump Reportedly Blaming Kushner; Former Staffer: 'Worst Political Adviser' in History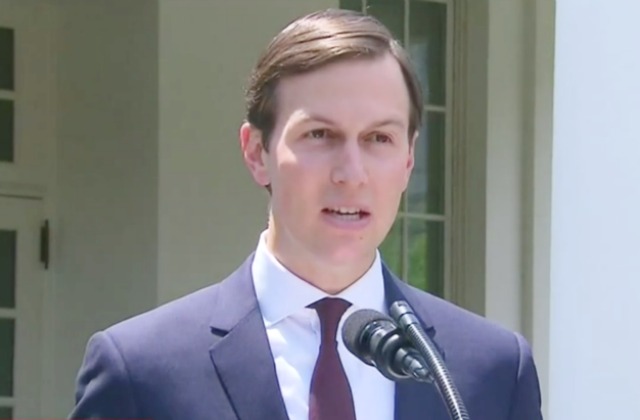 A new report today says President Trump has been venting about Jared Kushner's role in decisions that led to Robert Mueller's appointment as special counsel.
Gabriel Sherman's new piece for Vanity Fair says there are growing concerns among Trump allies about impeachment, but people like Steve Bannon have been advising Trump on how to handle the ongoing investigation:
In a series of phone calls with Trump on Monday and Tuesday, Bannon told the president to shake up the legal team by installing an aggressive lawyer above Cobb, according to two sources briefed on the call. Bannon has also discussed ways to pressure Congress to defund Mueller's investigation or limit its scope. "Mueller shouldn't be allowed to be a clean shot on goal," a Bannon confidant told me. "He must be contested and checked. Right now he has unchecked power."
And in at least one of those calls, the subject of the President's son-in-law has come up.
Trump has been "venting in private," according to Sherman, about the Mueller probe and how he really wants to be more critical of the special counsel.
One of the people he's blaming for the investigation getting to this point is apparently Kushner, and former campaign aide Sam Nunberg weighed in on this too:
According to two sources, Trump has complained to advisers about his legal team for letting the Mueller probe progress this far. Speaking to Steve Bannon on Tuesday, Trump blamed Jared Kushner for his role in decisions, specifically the firings of Mike Flynn and James Comey, that led to Mueller's appointment, according to a source briefed on the call. When Roger Stone recently told Trump that Kushner was giving him bad political advice, Trump agreed, according to someone familiar with the conversation. "Jared is the worst political adviser in the White House in modern history," Nunberg said. "I'm only saying publicly what everyone says behind the scenes at Fox News, in conservative media, and the Senate and Congress." (The White House didn't respond to a request for comment by deadline.)
[image via screengrab]
— —
Follow Josh Feldman on Twitter: @feldmaniac
Have a tip we should know? [email protected]
Josh Feldman - Senior Editor