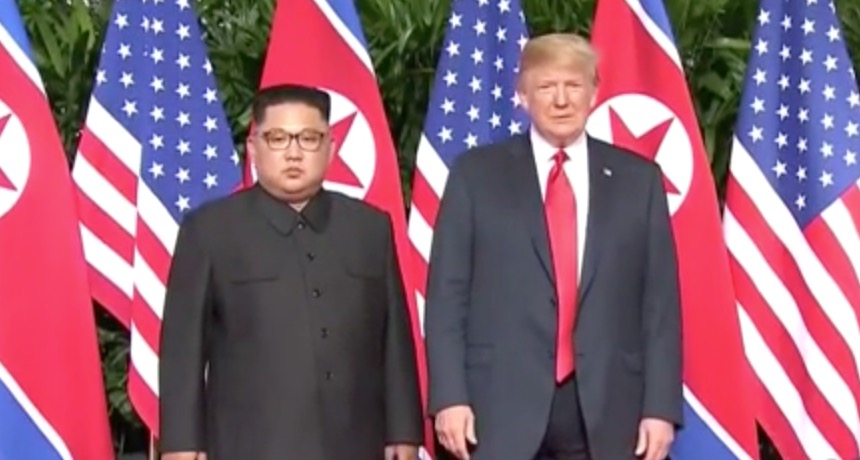 President Donald Trump is hoping to keep North Korean Dictator Kim Jong Un at the negotiating table with the help of Sir Elton John.
Korean news outlet The Chosunilbo reports that Secretary of State Mike Pompeo brought two items from the president to the dictator upon his visit to North Korea. The first is a letter written by Trump. The other is an Elton John CD, which was autographed by Trump.
The CD reportedly features the song "Rocket Man," the classic hit that inspired Trump's nickname for Kim Jong Un in 2017.
Sources in Washington say that the gifts "reflect Trump's expectations that Kim will follow through on the pledges in an agreement the two signed at their summit."
Per Chosunilbo:
One diplomatic source in Washington said, "The 'Rocket Man' CD was the subject of discussion during Trump's lunch with Kim. Kim mentioned that Trump referred to him as 'rocket man' when tensions ran high last year" after a series of nuclear tests and missile launches by the North. "Trump then asked Kim if he knew the song and Kim said no."

Trump remembered the conversation and told Pompeo to take a CD with the song for Kim. He reportedly wrote a message on it and signed it.
Coincidentally, Trump invoked Elton John during his Thursday night rally in Montana, although completely unrelated to "Rocket Man" Kim Jong Un.
Will the charm offensive work on the North Korean dictator? Will he like the song? Only time will tell.
[image via screengrab]
Have a tip we should know? tips@mediaite.com