Trump Was 'Forcing His Tongue Down My Throat' — People Writer Recalls Closed-Door Encounter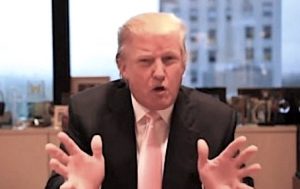 Natasha Stoynoff published a disturbing account of a closed-door encounter between her and Donald Trump went she went down to his Mar-a-Lago estate to profile him in 2005.
Writing in People, the same publication that assigned her to the Trump beat over a decade ago, Stoynoff writes about the time in Dec. 2005 she was sent to Florida to cover Trump and Melania Trump's one-year anniversary:
Our photo team shot the Trumps on the lush grounds of their Florida estate, and I interviewed them about how happy their first year of marriage had been. When we took a break for the then very-pregnant Melania to go upstairs and change wardrobe for more photos, Donald wanted to show me around the mansion. There was one "tremendous" room in particular, he said, that I just had to see.

"I just start kissing them," he said to Billy Bush. "It's like a magnet. Just kiss. I don't even wait. And when you're a star, they let you do it. You can do anything."

We walked into that room alone, and Trump shut the door behind us. I turned around, and within seconds, he was pushing me against the wall, and forcing his tongue down my throat.
Stoynoff describes how the episode mirrors Trump's own description of his method of forcing himself on women, revealed in 2005 audio which went public last Friday. "I'm automatically attracted to beautiful women — I just start kissing them, it's like a magnet," Trump told Billy Bush.
Her story comes on the heels of at least two others Wednesday night reporting on women coming forward after years or decades to allege that Trump sexually harassed them.
Regarding Stoynoff's story, a Trump spokesperson told People, "This never happened. There is no merit or veracity to this fabricated story."
You can read the complete story here.
—
Sam Reisman (@thericeman) is a staff editor at Mediaite.
Have a tip we should know? tips@mediaite.com