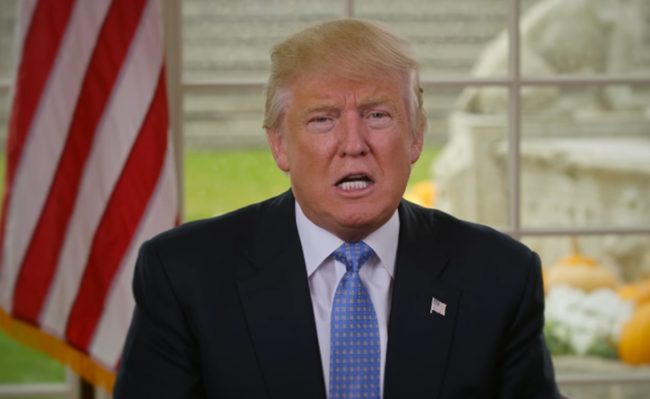 With his White House gripped by chaos and seemingly every day bringing another bombshell story rocking his administration, it appears voters are roundly rejecting President Donald Trump's job performance.
According to a new Quinnipiac poll, only 33% of voters approve of the job Trump is doing, compared to 61% who disapprove. Trump's approval rating has dipped seven points from Quinnipiac's June 29th survey.
For the most part, the president has retained the support of Republican voters, with 76% stating they approve of his performance. However, a significant portion — 17% — are now giving a thumbs down to Trump. Only 2%(!) of Democrats approve of the way the president is handling his job. Independents are not overly thrilled with Trump, either, with only 34% saying he's doing a good job.
For the Trump administration, there is nothing but bad news in these poll numbers. Outside of the low approval numbers, the survey also shows that a solid majority of voters — 58% — believe the president has tried to derail or obstruct the investigation into Russian election interference, and 63% of respondents feel Russia attempted to influence the election.
Another interesting takeaway from this poll is the how much the public really wants the president to stop tweeting. Nearly seven in ten voters want him to put his smartphone down while only 27% state that he should keep using Twitter. This goes against what Trump recently tweeted about his use of the social media platform:
Only the Fake News Media and Trump enemies want me to stop using Social Media (110 million people). Only way for me to get the truth out!

— Donald J. Trump (@realDonaldTrump) August 1, 2017
While the Q poll represents the lowest approval rating for Trump among recent surveys released, it isn't exactly a crazy outlier. Per HuffPost Pollster, Trump's average job approval rating is 37.5%, with disapproval sitting at 58.4%.
[image via screengrab]
—
Follow Justin Baragona on Twitter: @justinbaragona
Have a tip we should know? tips@mediaite.com