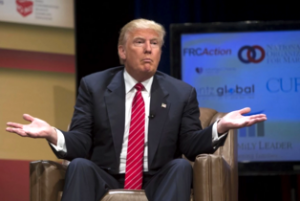 As the drama surrounding the folded venture known as Trump University continues, Donald Trump has insisted that he doesn't remember the names of any of the instructors he hired to teach his seminars and that his line of courses received an A+ rating from the Better Business Bureau. Names he has been able to recall include those of students involved in the class action against him, which he proved by producing their initial surveys on the course.
It's not true, however, that Trump was as hands-off with the faculty selection as he claims. (It's also not true that the A+ rating stuck or was the final rating on the institution, but we will get to that.) Note that yesterday we told you how Trump is insisting he has never been familiar with mobster Robert LiButti as LiButti's daughter goes on the record to assert that she has plenty of memories of her family being tight with the Trumps. His recent story about not recalling who was hired to teach his courses is a lot like that. It is a claim riddled with the bullet holes of contradictory statements from years past.
At The Daily Beast, Olivia Nuzzi did a little digging after Trump quipped, "I don't know the people. I wasn't running it." Here is a quote she found from Trump about "hand-picking" the teachers himself:
Trump on Trump University's faculty in 2005 (he now claims to not remember who he employed) https://t.co/30AMBinKK1 pic.twitter.com/eT8hTxB7bD

— Olivia Nuzzi (@Olivianuzzi) March 8, 2016
She went deep in an article on the site, uncovering that some of the leaders of seminars were regarded as having no experience or knowledge. One was a felon whose custody exchanges with his former wife were not allowed on the property of their child's school because he was so violent and mercurial. Trump, then, "hand picked" these people to teach his classes.
The contradictions have continued to roll in today. Following Nuzzi's in-depth article at Daily Beast, the Better Business Bureau released a statement to clarify that the alleged BBB document shared by Trump in his video last night was not an official document from the BBB. In fact, the organization sent nothing, official or unofficial, to the debate site on Thursday, in spite of the claims being made by Trump and his team. The Bureau also stands by the fact that the rating of Trump U was as low as a D- at one time. Read the whole release here.
[image via screengrab]
For more from Lindsey, follow her on Twitter.
This is an opinion piece. The views expressed in this article are those of just the author.