Trump's Stormy Daniels Insult Triggers Outrage: It's 'Mushroom D*ck vs. Horseface'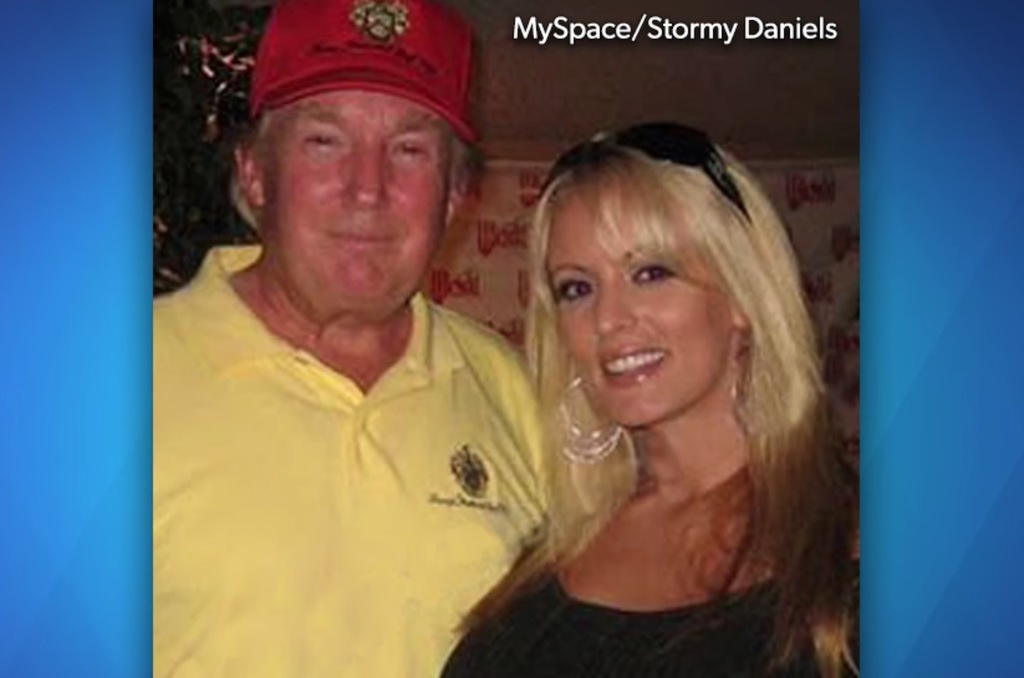 Reactions to President Donald Trump's deeply personal attack on Stormy Daniels are coming in fast and furious.
On Monday, a defamation claim against Trump brought by Daniels was dismissed by a Federal judge. How did the President respond? Tuesday morning, he called Daniels "horseface" and gloated about the possibility that she'll have to compensate him for his legal fees.
"Federal Judge throws out Stormy Danials lawsuit versus Trump. Trump is entitled to full legal fees." @FoxNews Great, now I can go after Horseface and her 3rd rate lawyer in the Great State of Texas. She will confirm the letter she signed! She knows nothing about me, a total con!

— Donald J. Trump (@realDonaldTrump) October 16, 2018
This is hardly the first time Trump has attacked a woman by taking shots at her looks. But as you can see, political observers are apoplectic over this latest occurrence:
"And then I called her Horseface!" pic.twitter.com/sOrBYIkVGY

— Brian Stelter (@brianstelter) October 16, 2018
Just your normal day when the President of the United States calls the porn star with whom he had unprotected sex and then constructed an elaborate scheme to cover it up, calls that porn star "Horseface" https://t.co/4K7uYAN6fm

— Sam Stein (@samstein) October 16, 2018
This is something he has said to people privately to criticize Stormy Daniels' appearance. And… here it is, just…on Twitter. https://t.co/hI7581oljs

— Maggie Haberman (@maggieNYT) October 16, 2018
somehow he stomps on his own win https://t.co/8rEh3J3EFK

— Guy Benson (@guypbenson) October 16, 2018
He had sex with Horseface, so… https://t.co/1MWkvrVDXG

— Ben Shapiro (@benshapiro) October 16, 2018
Mushroom Dick and Horseface: A Tale of Romance

— Ben (@BenHowe) October 16, 2018
The president of the United States, with nothing on his public schedule today, has so far tweeted about "Pocahontas" (3 times) and "Horseface. Nothing about Khashoggi. https://t.co/J5h0TPjEBo

— Kathryn Watson (@kathrynw5) October 16, 2018
"Horseface."

remember, last wk columnists unloaded on Hillary bc she *mentioned* the word "incivility"…. https://t.co/Csj8jat2rX

— Eric Boehlert (@EricBoehlert) October 16, 2018
There is no bottom. https://t.co/kxsA7UkCn1

— Richelle Carey (@RichelleCarey) October 16, 2018
Holy shit https://t.co/rHUfOo8pVs

— Comfortably Smug (@ComfortablySmug) October 16, 2018
"In today's global society, social media is an inevitable part of our children's daily lives," Mrs Trump said. "It can be used in many positive ways, but can also be destructive and harmful when used incorrectly." https://t.co/pgW9cTGWfv

— Ken Dilanian (@KenDilanianNBC) October 16, 2018
If I ignore the tweet, will it go away?

— Chris Geidner (@chrisgeidner) October 16, 2018
now is as good a time as any to delete this website for good

— Cristian Farias (@cristianafarias) October 16, 2018
POTUS showing once again respect for others, a firm regard for the rule of law, kindness to those who oppose him and how when others go low, he goes high. Just kidding. This is more #TwitterLitter from the land Trump. https://t.co/pCSB5wjKWs

— Brian J. Karem (@BrianKarem) October 16, 2018
"Mushroom dick vs. Horseface" is actually where we are right now, in case you were wondering.

— Niall Stanage (@NiallStanage) October 16, 2018
And here's the response from Michael Avenatti:
.@realDonaldTrump – tens of millions of Americans are tired of your fraud, lies, and corruption. They are equally tired of your attacks on women, especially the ones who you have had sex with while cheating on your wives. We (and the UN) are laughing AT YOU, not with you. #Basta

— Michael Avenatti (@MichaelAvenatti) October 16, 2018
[Image via screengrab]
— —
>> Follow Ken Meyer (@KenMeyer91) on Twitter
Have a tip we should know? tips@mediaite.com