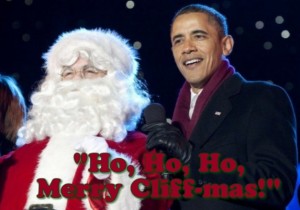 This holiday season, the political media has been given a "gift" that keeps on giving, a looming stocking full of coal called the "fiscal cliff" that they just can't stop talking about. In the spirit of the season, the latest move in this game of fiscal chicken produced a uniquely Silent Night, if not a holy one. As the special day approaches, and America finds out if it gets to open ribbon-festooned packages of deep sequester cuts, tax increases, and lapsed unemployment insurance, we can only hope for the gentle padding of magical feet on the roof, shimmying down the chimney to the rescue on The Night Before Cliffmas.
Twas The Night Before Cliffmas
Twas the night before Cliffmas, when all through the House
Not a creature was stirring, thanks to Norquist's vows.
The stockings were hung in the chamber with care,
In hopes that Americans For Prosperity soon would be there.
The people were nestled all snug in their beds,
While visions of a reasonably secure retirement and modest GDP growth danced in their heads.
And members in their districts, on a gerrymandered map,
Had just high-tailed it out of town like Ricochet Rabbit for a long winter's nap.
When out on the lawn there arose such a clatter,
I sprang from my van to see what was the matter.
My camera was charged, but it had not a flash,
"Dammit," I muttered, "should've forked out the cash!"
Because of global warming, there was no new-fallen snow
But I could still see quite clearly by the Capitol Dome's glow.
When, what did my wondering eyes then unveil,
But a presidential motorcade, and a Secret Service detail.
A figure emerged, cool and calm just like Spock,
I knew in a moment it must be Barack.
His Bluetooth, it glowed with an icy-cold flame,
As he conferenced the members, and called them by name!
"Now Boehner! now, Cantor! now, Akin and Ryan!
On, Gohmert! On, Bachmann! Your poll numbers are dyin'!
Get back to the chamber! Get back to the Hill!
Now pass away! Pass away! Pass me a bill!"
"For months, we debated, your way did we try,"
Then he named-dropped Mitt Romney, said "Just ask that guy."
Through that headset, I heard them respond, "What a hassle,
We get that you won, but don't be such an… a poor sport."
They continued, in unison, "We don't like your figures,
and we don't take orders from… Kenyan anti-colonialists!"
"We will not raise taxes, we will not raise rates,
but we'll risk the full faith and credit of these United States!"
The President explained, "It's just four lousy percent,
on people who don't have to worry about rent,
We can cut Social Security if that makes you feel better,
if that gets me a deal, if that's a deal-getter!"
"No!" they cried back, "We will not end this crisis!
Try praying to God, or Muhammad, or Isis!"
As the President strode up the Capitol steps,
He cold hung the hell up on those GOP Reps.
He reached the top step and kicked open the door,
As the echo bounced 'round the empty House floor.
He located every Republican on the House roll,
And filled all their stockings with what he called "clean coal."
His eyes-how they twinkled, behind his chill Ray-Bans,
as he plucked, from Boehner's podium, a receipt for a spray tan.
A box of Puffs tissues lay under his gavel,
for the Speaker's composure was quick to unravel.
"What's the use?" said the POTUS, with a shrug and a sigh.
"Why go to the trouble, why make Boehner cry?"
"On the day after Cliffmas, their leverage gone,
They'll pass middle-class tax cuts," he said, with a yawn.
"Let's get back to the White House, and get some damn sleep,"
he said, adding "These guys are a pain in my (bleep)!"
"They won't listen to me, they won't listen to reason,
but they'll listen to voters next campaign season."
From the chamber, he rushed, just as quick as he came,
laughing, "I'll get my tax rate, and they'll still get the blame!"
Then I heard him exclaim, by the motorcade's light,
"Happy Cliffmas to all, and to all a good-night!"
Have a tip we should know? tips@mediaite.com