Twitter Blows Up After Chuck and Nancy Announce DACA Deal That Won't Include Border Wall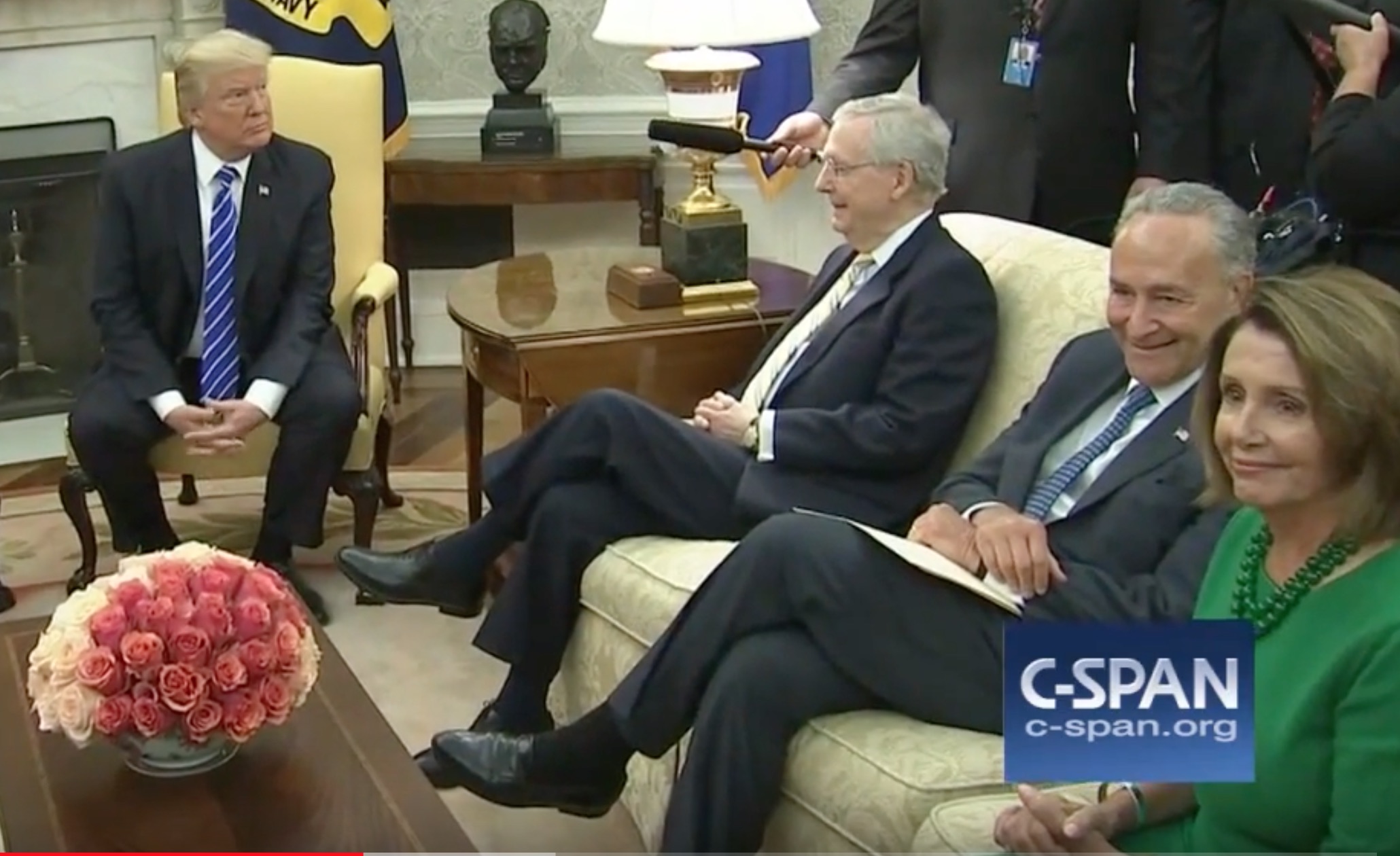 This evening, following a dinner at the White House that reportedly included Chinese food and chocolate creme pie, Senate Minority Leader Chuck Schumer and House Minority Leader Nancy Pelosi issued a statement which contained a pretty big announcement.
Basically, the two leading Democrats came to an agreement with Trump which would provide protections for DACA recipients while agreeing to border security measures that won't include a wall:

And, considering the implications of this deal — NO WALL and DREAMers getting a pathway to citizenship — you just knew that the internet would blow up.
First off, knowing how the president would look like he caved to Chuck and Nancy again, the White House released a statement denying that the wall was taken off the table:
While DACA and border security were both discussed, excluding the wall was certainly not agreed to.

— Sarah Sanders (@PressSec) September 14, 2017
Schumer's communications director answered back:
The President made clear he would continue pushing the wall, just not as part of this agreement. https://t.co/KD1SdLAnIF

— Matt House (@mattwhouse) September 14, 2017
Meanwhile, we got a wide range of reactions from the rest of Twitter:
Out: Trump threatening to shut down government over wall funding
In: Trump letting Pelosi/Schumer write immigration and spending bills

— Ryan Lizza (@RyanLizza) September 14, 2017
┳┻|
┻┳|
┳┻|
┻┳|
┳┻|
┻┳|
┳┻|
┻┳|
┳┻|
┻┳|
┳┻| _
┻┳| •.•) The Wall was
┳┻|⊂ノ always a lie, suckers.
┻┳|

— Rick Wilson (@TheRickWilson) September 14, 2017
Welcome to what can happen if @realDonaldTrump steps outside himself – this is a good deal for the country. https://t.co/eUt7C0IqIr

— Montel Williams (@Montel_Williams) September 14, 2017
TRUMP: I will build the wall and Mexico will pay for it!

TRUMP: I will build the wall (with taxpayer money)

TRUMP: New phone, who dis?

— Judd Legum (@JuddLegum) September 14, 2017
Art of the Deal, by Chuck and Nancy! https://t.co/hRe4Y7ttXJ

— Nicolle Wallace (@NicolleDWallace) September 14, 2017
Joe Walsh wasn't happy. At all.
No wall.
DACA enshrined.

Trump didn't make a deal w Chuck and Nancy. Trump got screwed by Chuck and Nancy.

Trump just screwed his base.

— Joe Walsh (@WalshFreedom) September 14, 2017
And Chris Cillizza gave us a very Cillizza take.
Any chance McConnell or Ryan knew about this is advance? No way, right? https://t.co/OayIvICtzD

— Chris Cillizza (@CillizzaCNN) September 14, 2017
We also got some relevant GIFs showing how Trump got rolled by PElosi and Schumer again:
President Schumer pic.twitter.com/uOSF6Swr2n

— Seth Mandel (@SethAMandel) September 14, 2017
Not sure how this footage of Pelosi and Schumer's meeting with Trump got leaked but wow: pic.twitter.com/84Kks2Hh49

— Eric Haywood (@EricHaywood) September 14, 2017
And then, of course, there was the MAGA crowd — and you can guess how they felt:
@RealDonaldTrump If AP is correct, Trump base is blown up, destroyed, irreparable, and disillusioned beyond repair. No promise is credible. https://t.co/uJjxk6uX5g

— Steve King (@SteveKingIA) September 14, 2017
Deep State Wins, Huge Loss for #MAGA No Countrvailing WH Force to Globalists Gary Cohn, Dina Powell, Gen. Kelly, Mark Short @POTUS Betrayed https://t.co/cZzWUlUJw2

— Lou Dobbs (@LouDobbs) September 14, 2017
Trump tells his audience what they want to hear. He told 63 million who voted for him he'd build a wall. Get used to it, Chuck & Nancy. https://t.co/UuxYFLLpok

— Ann Coulter (@AnnCoulter) September 14, 2017
"BUILD THE WALL! BUILD THE WALL!"…or…maybe…not really.

— Laura Ingraham (@IngrahamAngle) September 14, 2017
Weak R's have betrayed voters. @POTUS needs to stay the course and keep his promises or it's over! Pelosi and Schumer can never be trusted. https://t.co/ky0NWvZoBv

— Sean Hannity (@seanhannity) September 14, 2017
As Chuck Schumer did with Bubbles Rubio, he is trying to make @realDonaldTrump his bitch.
Mr. President, are you Chuck Schumer's bitch??

— Kurt Schlichter (@KurtSchlichter) September 14, 2017
.@realDonaldTrump will lose his base if he goes down this road. And I don't want to hear "4D chess" nonsense. This is bad. #BuildTheWall https://t.co/qzsrFOGgms

— John Cardillo (@johncardillo) September 14, 2017
[image via screengrab]
—
Follow Justin Baragona on Twitter: @justinbaragona
Have a tip we should know? tips@mediaite.com