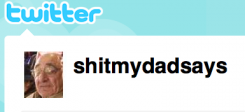 I suppose it was just a matter of time. A few years back the publishing world experienced the blog to book phenomenon (with varying degrees of success) and now it looks like we might be about to enter the twitter to sitcom phase courtesy of Shit My Dad Says. Lessons to be learned from this news: everyone is desperate for good content! Moving back home with your parents can not only be profitable; it's possible to make money on Twitter.
In case you're not a follower, Shit My Dad Says is a twitter feed started back in August by Justin Halpern. The feed quickly blew up and now boasts 700,000 plus followers and, as of this week, a sitcom deal with CBS (presumably with a more family friendly title). From THR:
Will & Grace creators David Kohan and Max Mutchnick are on board to executive produce and supervise the writing for the multicamera family comedy, which Halpern will co-pen with Patrick Schumacker. Halpern and Schumacker will also co-exec produce the Warner Bros. TV-produced project, which has received a script commitment.

Halpern, 29, had moved back in with his parents in San Diego, and on Aug. 3 he launched "Shit My Dad Says," a Twitter feed featuring colorful — often profane — comments and pearls of wisdom made by his 73-year-old father during their daily conversations.
Actually the leap from twitter to sitcom seems somehow more likely to succeed than the one from blog to books — SMDS was sold to Harper Collins last month. The short, funny, smart twitter asides are not actually that far from actual dialogue, especially the half hour comedy kind. Take a look.
Have a tip we should know? tips@mediaite.com