Twitter is Divided Over Sanders-Acosta Briefing Meltdown: 'Everyone is Awful'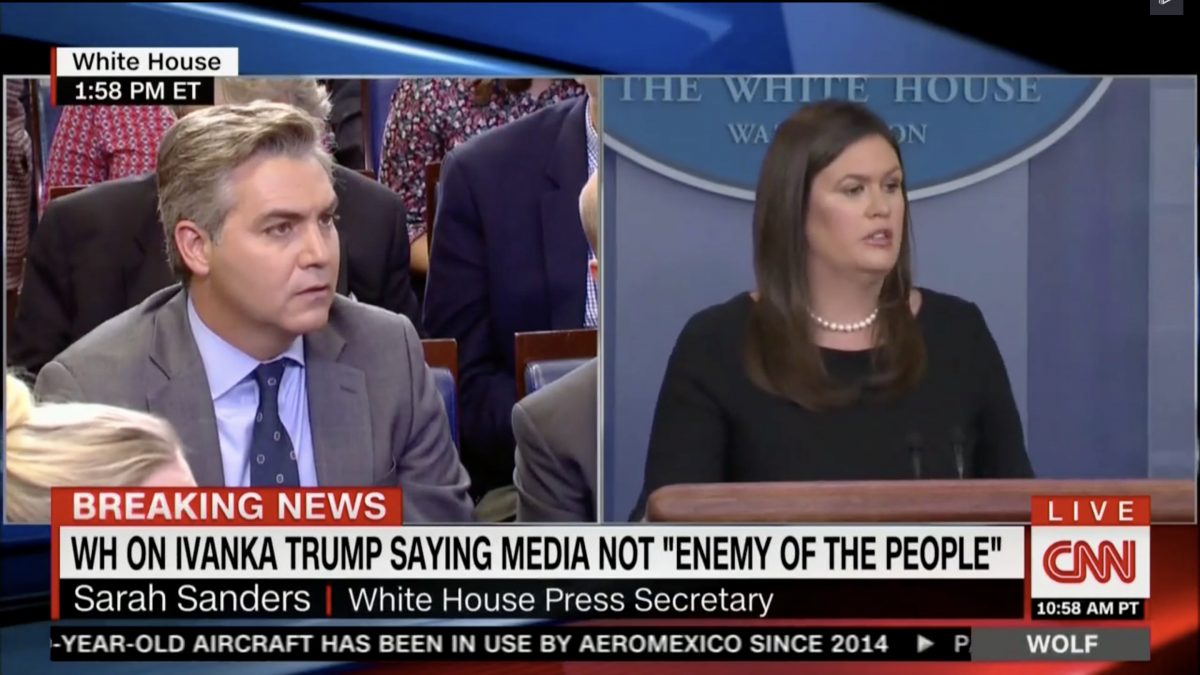 Just two days after being shouted down at a Trump rally in Florida, CNN's Jim Acosta confronted White House press secretary Sarah Sanders during the briefing and called for her to say that the press was not the enemy of the people.
She refused.
The clash between the White House reporter described by S.E. Cupp as "one of the president's favorite human punching bags" and Trump's press secretary during Thursday's briefing almost immediately drew a strong reaction on Twitter, many who were quick to take sides in support of either Sanders or Acosta's line of questioning.
Ann Coulter called Sanders "magnificent."
Sarah Huckabee Sanders is magnificent. Look up her answer to Jim Acosta on whether the press is the "enemy of the people."

— Ann Coulter (@AnnCoulter) August 2, 2018
Bill O'Reilly said Sanders was doing her job.
It is not Sarah Sanders' job to answer opinion questions from Jim Acosta or anyone else. Her job is to provide information. CNN is distorting the job of the White House spokesperson. Period.

No Spin analysis on https://t.co/fqUvO5EEW0.

— Bill O'Reilly (@BillOReilly) August 2, 2018
Sen. Richard Blumenthal (D-CT) called Sanders' refusal "remarkable and shameful."
Remarkable & Shameful. WH Press Secretary Sarah Sanders refuses to unequivocally state that the press is NOT in fact the enemy of the people. pic.twitter.com/hmk1IiVUVq

— Richard Blumenthal (@SenBlumenthal) August 2, 2018
Meanwhile, the "Dear Diary" crowd was out in full force trolling Acosta's briefing room performance and follow-up tweet.
Dear Diary, https://t.co/CkN12lQPne

— Comfortably Smug (@ComfortablySmug) August 2, 2018
NBC contributor Hugh Hewitt likened the whole thing to a "bad high school play" while the NRA's Dana Loesch also weighed in.
It's like a bad high school play. Everyone is awful. The drama teacher grimaces. The audience applauds and wants to go home and watch @SportsCenter https://t.co/ixIVdVpOt1

— Hugh Hewitt (@hughhewitt) August 2, 2018
Perhaps the press needs to affirm whether or not the *people* are the enemy of the press. You know, the people who are tired of being maligned as racists because they didn't vote for Hillary or called murderers on networks because they support self-defense. https://t.co/64pqzS5WHj

— Dana Loesch (@DLoesch) August 2, 2018
NBC's Chuck Todd said this:
An extraordinarily disappointing moment by @PressSec just now… Her inability to acknowledge the role POTUS has played in all of this media bashing only hurts her own credibility…She had a chance to defend the institution and take the high ground and show leadership, instead..

— Chuck Todd (@chucktodd) August 2, 2018
Others such as Playboy's White House reporter and CNN political analyst Brian Karam noted that while Sanders didn't say the press was not the enemy, she did take time to give her "laundry list of slights."
One of the most disengenuous events I've witnessed. @Acosta asked repeatedly about us being the enemy of the people and SHS repeats a laundry list of slights and her need for SS protection. 5 dead in Annapolis.

— Brian J. Karem (@BrianKarem) August 2, 2018
But she did spend a minute airing grievances she had against the press. https://t.co/S5nf9ceEWd

— Wajahat Ali (@WajahatAli) August 2, 2018
CNN's Keith Boykin noted, "Donald Trump said a black Congresswoman had a "low IQ," called a black TV anchor "dumb as a rock," and said a white female anchor was "bleeding badly from a face-lift," but Sarah Sanders blames the media for lowering the level of conversation in America."
Donald Trump said a black Congresswoman had a "low IQ," called a black TV anchor "dumb as a rock," and said a white female anchor was "bleeding badly from a face-lift," but Sarah Sanders blames the media for lowering the level of conversation in America. pic.twitter.com/zKRgQUlINg

— Keith Boykin (@keithboykin) August 2, 2018
Soledad O'Brien, CEO of Starfish media simply said this about the White House press secretary:
This lady is a bad person. https://t.co/mIMugdSnrP

— Soledad O'Brien (@soledadobrien) August 2, 2018
[image via screengrab]
Have a tip we should know? [email protected]