Twitter Ridicules Orrin Hatch for Praising Utah Paper Op-Ed That Criticized Him: 'Did You Read It, Sir?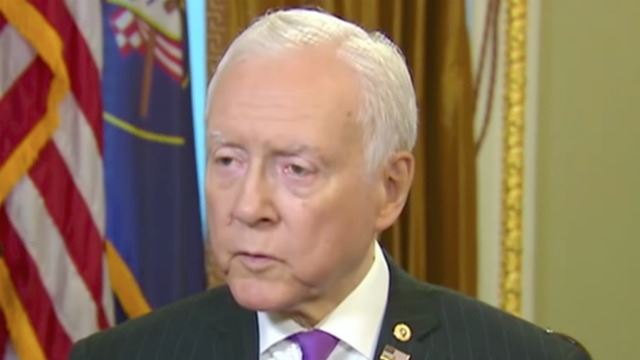 Senator Orrin Hatch is catching a whole lot of online flak after he promoted a media profile on himself that was actually highly unflattering.
The Salt Lake City Tribune recently released an op-ed which called the Republican senator "Utahn of the Year." However, that label was definitely not meant as a compliment since the piece rips Hatch apart for his "lack of integrity that rises from his unquenchable thirst for power."
Even though the piece repeatedly blasts Hatch and calls for his retirement from politics, it seems he didn't notice any of this, based on this self-congratulatory tweet:
Grateful for this great Christmas honor from the Salt Lake Tribune. For the record, I voted for @SpencerJCox and @rudygobert27. #utpol pic.twitter.com/7iFOBK6TWf

— Orrin Hatch (@OrrinHatch) December 25, 2017
Of course, this move prompted a mountain of mockery, since Hatch more or less signaled approval for all of the negative statements the Tribune said about him.
Um … did you read it, sir?https://t.co/omfM1WjWQD https://t.co/ug7L31ThkW

— Jake Tapper (@jaketapper) December 26, 2017
This is very, very funny. Read the article Hatch thinks is an "honor." Oh, boy. Guess he read this article as closely as GOP senators read the tax bill before voting for it.https://t.co/ke56eUuAUy https://t.co/QvpmtXy9xu

— David Corn (@DavidCornDC) December 26, 2017
The very definition of #RBYT https://t.co/dyfGIFe48H

— Jonathan Capehart (@CapehartJ) December 26, 2017
These people just rewrote our tax code https://t.co/lqa9hvV9Pz

— Zac Petkanas (@Zac_Petkanas) December 26, 2017
To catch everyone up: the Salt Lake Tribune named Orrin Hatch "Utahn of the Year" in an utterly scathing editorial. Hatch clearly didn't read it and tweeted out this thanks.

We have reached the point where GOP senators are Wile E. Coyote to the media's Roadrunner. https://t.co/6NijTdWWHM

— Charlotte Clymer?️‍? (@cmclymer) December 26, 2017
Did you not read it? Just like your tax bill!?!? ?

— Beth Bryson (@maddezmom) December 25, 2017
How have you not deleted this tweet yet, sir? https://t.co/3kXmZyje3Y

— Imani Gandy Canes (@AngryBlackLady) December 26, 2017
As of this writing, Hatch has yet to elaborate as to why he tweeted out the article and called it a "great Christmas honor."
UPDATE: 1:13 p.m. EST: Hatch's office has offered a response to the Tribune:
.@OrrinHatch spokesman calls that blistering @sltrib editorial a baseless attack in a statement to @ABC —> pic.twitter.com/snAm9iDYSu

— Mariam Khan (@MKhan47) December 26, 2017
[Image via screengrab]
— —
>> Follow Ken Meyer (@KenMeyer91) on Twitter
Have a tip we should know? tips@mediaite.com