Salt Lake City Tribune Blasts Hatch: 'Lack of Integrity That Rises From His Unquenchable Thirst For Power'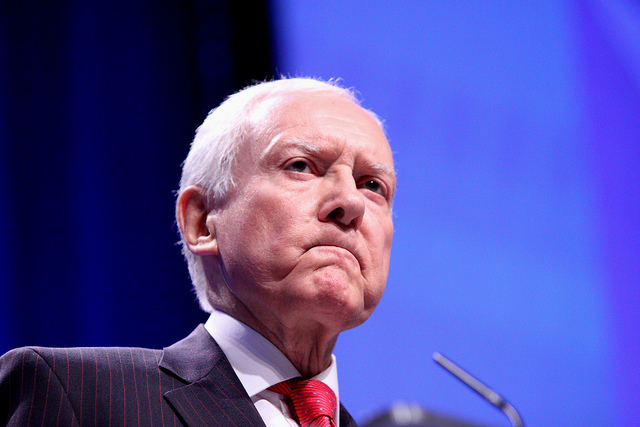 All eyes have been on Utah in recent weeks, after Sen. Orrin Hatch suggested that he would be seeking re-election in 2018 because, in his words, "I still have the chairmanship of the Finance Committee and they'll never be another Utahn that's chairman of the committee, at least not for 40 or 50 years."
The 83-year-old has been serving in the Senate since 1977, however, and much of his constituency would like to see him retire at the end of this term, 78 percent according to one recent poll.
Hatch's hometown newspaper, The Salt Lake City Tribune, went all-in on the Senator when they named him "the Utahn of the Year" in a recent op-ed.
Being selected as the most notable person of the year, however, is not necessarily a good thing.
"The Tribune has assigned the label to the Utahn who, over the past 12 months, has done the most. Has made the most news. Has had the biggest impact. For good or for ill," they wrote.
The rest of the op-ed focuses squarely on the ill, going on to say that Hatch has repeatedly shown a "lack of integrity that rises from his unquenchable thirst for power" and urging him to retire because "he has been a senator from Utah longer than three-fifths of the state's population has been alive."
The op-ed makes note that Hatch promised during his bid for re-election in 2012 that he would not run again, which caused other viable candidates to clear a path for the "elder statesman."
"Clearly, it was a lie," they wrote. "Hatch has moved to freeze the field to make it nigh unto impossible for any number of would-be senators to so much as mount a credible challenge. That's not only not fair to all of those who were passed over. It is basically a theft from the Utah electorate."
One member of the field, Mitt Romney, has expressed interest in running for Hatch's seat, were it to become available.
Hatch is expected to officially make a decision on whether or not to run in the coming weeks. Also, it must be noted, he clearly did not read the article itself, if this tweet is any indication.
[image via screenshot]
—
Follow Lawrence Bonk (@sidescrollers) on Twitter
Have a tip we should know? tips@mediaite.com