Twitter Wrecks Trump After He Dedicates Trophy to Puerto Rico 'Exactly What They Need Right Now'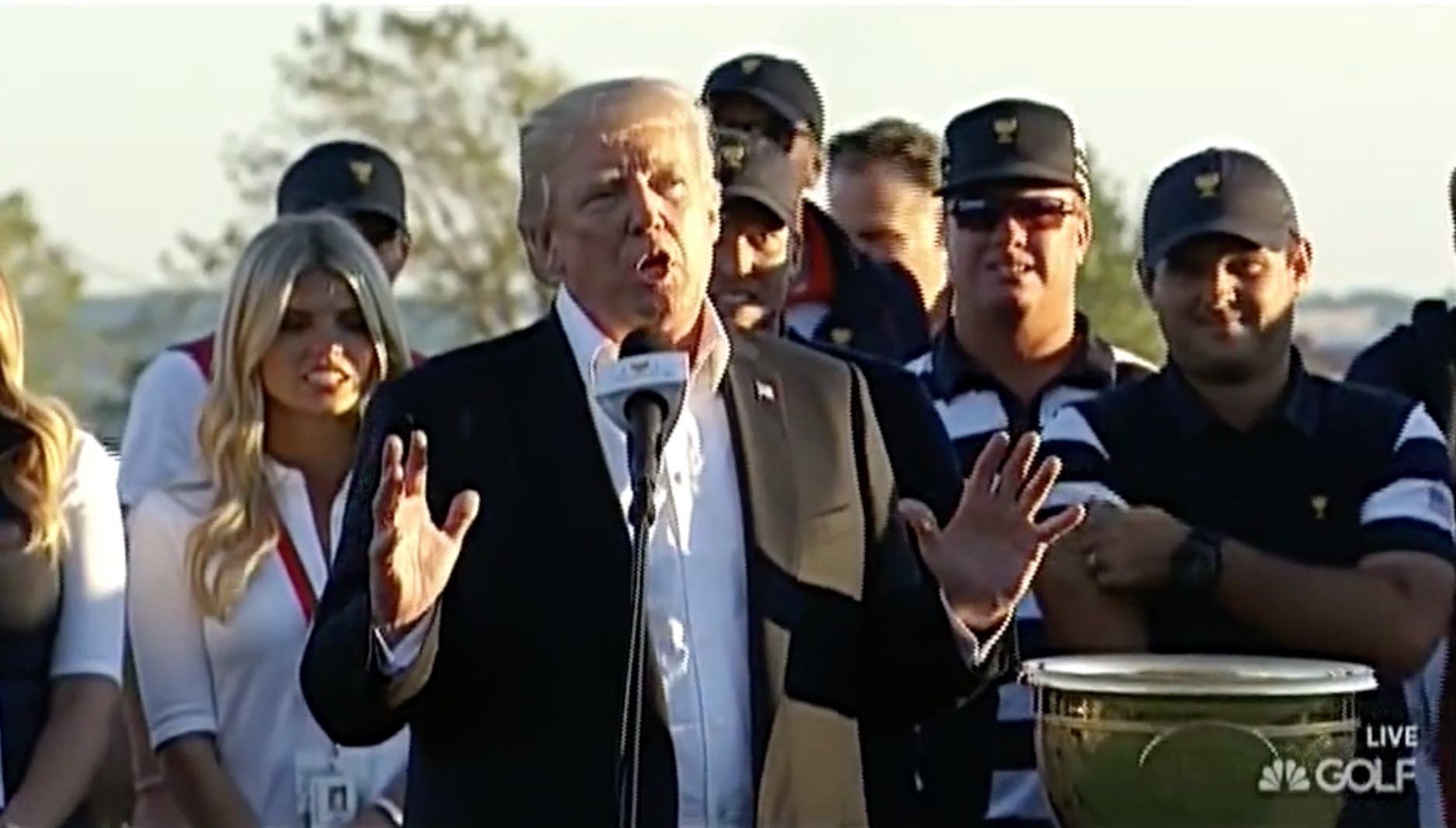 While millions of Americans attempt to recover from devastation caused by Hurricane Maria, President Donald Trump attempted to help them by dedicating a golf trophy to the victims.
"If you look today and you see what's happening, how horrible it is, but we have it under really great control ― Puerto Rico, and the people of Florida who have suffered over this last short period of time with the hurricanes. I want to just remember them," Trump said while presenting the President's Cup trophy in New Jersey.
While Trump may have thought the gesture would give him some good PR, Twitter did not — as they wrecked the president by mocking, dragging, and laughing at the ill-timed act:
Per pool: "Members of the pool said they heard someone yell to Trump during the trophy ceremony: 'You don't give a shit about Puerto Rico!'"

— Kyle Griffin (@kylegriffin1) October 1, 2017
I actually can't think of a way this would be more ridiculous https://t.co/yXEWaOtjWA

— Lauren Duca (@laurenduca) October 1, 2017
My God, trump really did just dedicate a golden Trophy to the people of Puerto Rico. I would laugh if it weren't so damn trashy & pathetic.

— Ricky Davila (@TheRickyDavila) October 1, 2017
That's exactly what the people of Puerto Rico need right now.. https://t.co/WwfO5p98L8

— Haaretz.com (@haaretzcom) October 1, 2017
I bet everyone who was critical of Trump's response to Hurricane Maria is feeling silly now that he's dedicated a golf trophy to victims!

— Stephanie McMaster (@Smethanie) October 1, 2017
Trump took time off from his wknd of golfing at his own resort to go to another golf resort to present a golf trophy.

Because…priorities. https://t.co/SmipkwhhSG

— Caroline O. (@RVAwonk) October 1, 2017
Lest anyone thinks its tradition for the US President to present the trophy at the President's Cup, Trump today became first POTUS to do so. pic.twitter.com/P3vwWaRpIt

— David Jolly (@DavidJollyFL) October 1, 2017
Trump dedicates President's Cup golf trophy to hurricane victims after berating San Juan Mayor & calling critics of effort in PR "ingrates" https://t.co/wytlTpjBaK

— Jayne Miller (@jemillerwbal) October 1, 2017
Trump dedicates President's Cup to Puerto Rico, b/c, clearly, that Cup also turns into an endless fountain of badly needed drinking water.?

— Francis Baraan IV (@MrFrankBaraan) October 1, 2017
Trump dedicates golf trophy to hurricane victimshttps://t.co/aG4vQP5pVC by @aterkel pic.twitter.com/L6LocSjz5G

— Marina Fang (@marinafang) October 2, 2017
Puerto Rico: We need shelter, water, food, people are dying

Trump: Hey guys what about this shiny golf trophyhttps://t.co/4HSZbiQqgX

— Isaac (@WorldofIsaac) October 2, 2017
Trump spent the day at a golf tournament.

He dedicated the trophy to hurricane victims.

He's just so reliably ridiculous and offensive. https://t.co/2tq6h9e7ic

— Greg Leding (@gregleding) October 2, 2017
But… Trump just dedicated a trophy to them, so it's cool. https://t.co/vtqNpulp4F

— Aléx Young (@AlexYoung) October 2, 2017
[featured image via screengrab]
Follow Caleb Ecarma on Twitter.
Have a tip we should know? [email protected]