Two Major Pro-Life Groups Release Statements Denouncing Trump's Abortion 'Punishment' Remarks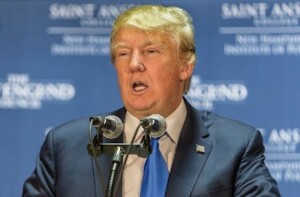 Two major pro-life organizations have spoken out today against Donald Trump's comment on "punishment" for abortion.
Trump said today that he believes that the women who get abortions should be punished if abortion is banned. Trump's son backed his dad up and said it should be obvious that breaking the law should lead to punishment
But both March for Life and Susan B. Anthony List said in statements today that the concept of punishing women who get abortions is antithetical to their pro-life beliefs.
March for Life––a group that organizes major marches and rallies to speak out against abortion––released the following statement:
Republican presidential front-runner Donald Trump, who just last night confirmed that he had "evolved" on the issue of abortion and is now pro-life, managed to upset both pro-lifers and abortion supporters with his comments that women who have abortions should face "some form of punishment" if abortion were to be banned in the United States.

"Mr. Trump's comment today is completely out of touch with the pro-life movement and even more with women who have chosen such a sad thing as abortion," said Jeanne Mancini, President of the March for Life Education and Defense Fund. "Being pro-life means wanting what is best for the mother and the baby. Women who choose abortion often do so in desperation and then deeply regret such a decision. No pro-lifer would ever want to punish a woman who has chosen abortion. This is against the very nature of what we are about. We invite a woman who has gone down this route to consider paths to healing, not punishment."
And Susan B. Anthony List president Marjorie Dannenfelser reacted thusly:
Mattie Brinkerhoff, a leader of the women's suffrage movement, said that when a woman undergoes an abortion it is evidence she has been 'greatly wronged.' The Revolution, the newspaper owned and operated by Susan B. Anthony published an op-ed asserting that, on abortion, "thrice guilty is he who, for selfish gratification, heedless of her prayers, indifferent to her fate, drove her to the desperation which impels her to the crime.' Alice Paul was known to have called abortion 'the ultimate exploitation of women.'

We have never advocated, in any context, for the punishment of women who undergo abortion.

As a convert to the pro-life movement, Mr. Trump sees the reality of the horror of abortion – the destruction of an innocent human life – which is legal in our country up until the moment of birth. But let us be clear: punishment is solely for the abortionist who profits off of the destruction of one life and the grave wounding of another.
It's also worth highlighting the below tweet from the president of the National Right to Life:
The Inept Thing Donald Trump Said About Women Who Have Abortions is Making Pro-Lifers Cringe https://t.co/iUnQrhs3wP

— Carol Tobias (@CarolTobias1) March 30, 2016
[featured image via Shutterstock]
— —
Follow Josh Feldman on Twitter: @feldmaniac
Have a tip we should know? tips@mediaite.com
Josh Feldman - Senior Editor