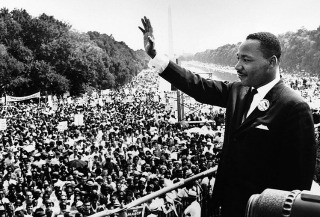 Student leaders at the University of Oregon debated removing a quote from Martin Luther King Jr. from its student center, arguing that the quote was not inclusive enough for modern understandings of diversity.
Oregon's Erb Memorial Union, which is currently under renovation, had the following famous King quote on the wall: "I have a dream that my four little children will one day live in a nation where they will not be judged by the color of their skin, but by the content of their character. I have a dream…"
But as renovation continues, the Oregon Student Union seriously considered replacing that quote. "The quote is not going to change," reports student paper Oregon Daily Emerald, "but that decision was not made without some hard thought by the Student Union Board."
When the student union considered the question, some students asked, "Does the MLK quote represent us today?" The problem wasn't so much the message, but the fact that it only focused on racial diversity instead of gender identity.
"Diversity is so much more than race," said one sophomore architecture major. "Obviously race still plays a big role. But there are people who identify differently in gender and all sorts of things like that."
Ironically, the King quote was to the lobby after students complained about another quote. Until 1985, the wall declared the University of Oregon "leader in the quest for the good life for all men." That was replaced with the King quote after feminists objected to the implication that Oregon only cared about "men."
[Image via screengrab]
——
>>Follow Alex Griswold (@HashtagGriswold) on Twitter
Have a tip we should know? tips@mediaite.com