Ukraine Releases Audio of Separatists Allegedly Admitting Shooting Down MH17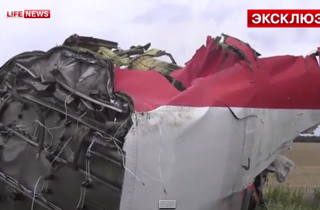 Since the moments after the crash of Malaysian Flight 17, The Ukraine government has been pointing the finger of blame at Russian separatists. Now they say they have proof.
The Foreign Intelligence Service of Ukraine released what they claim is intercepted audio of pro-Russian separatists discussing the plane crash. The Kyiv Post has a transcript of the conversation between two militants, codenamed "Greek" and "Major," who initially thought they had downed a military aircraft:
"Greek": Well, what do you have there?

"Major": In short, it was 100 percent a passenger (civilian) aircraft.

"Greek": Are many people there?

"Major": Holy sh__t! The debris fell right into the yards (of homes).

"Greek": What kind of aircraft?

"Major": I haven't ascertained this. I haven't been to the main sight. I am only surveying the scene where the first bodies fell. There are the remains of internal brackets, seats and bodies.

"Greek": Is there anything left of the weapon?

"Major": Absolutely nothing. Civilian items, medicinal stuff, towels, toilet paper.
And the audio below:

Interfax, a Russian non-governmental agency that initially broke the story of the crash, had a different take: according to their sources, Vladimir Putin, who was returning to Moscow after the BRICS Summit in Brazil, may have been the intended target. Government-owned news outlet RT reported:
"I can say that Putin's plane and the Malaysian Boeing intersected at the same point and the same echelon. That was close to Warsaw on 330-m echelon at the height of 10,100 meters. The presidential jet was there at 16:21 Moscow time and the Malaysian aircraft – 15:44 Moscow time," a source told the news agency on condition of anonymity.

"The contours of the aircrafts are similar, linear dimensions are also very similar, as for the coloring, at a quite remote distance they are almost identical", the source added.
The RT story was later updated with multiple sources saying that Putin was not flying over Ukraine, nor had he done so since conflict broke out.
[RT, Kyiv Post]
[Image via LifeNews]
—
>> Follow Tina Nguyen (@Tina_Nguyen) on Twitter
Have a tip we should know? tips@mediaite.com