Undercovered: Belgian Security Forces Warn of Possible Future ISIS Attacks in Europe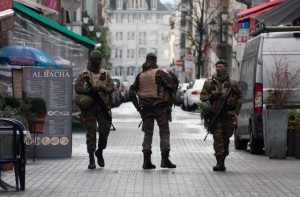 Welcome to Undercovered: our daily feature bringing attention to excellent reporting and stories we feel deserve a larger audience.
—
Belgian security forces are on the alert following reports that ISIS fighters have left Syria and are planning to carry out a terrorist attack in France and Belgium.
The Belgian crisis centre in charge of coordinating security responses said an alert had been circulated to all police forces in the country, but there were no immediate plans to raise the security level to the maximum, which would indicate an imminent threat of an attack.

Belgian intelligence services have also informed their French counterparts, who have now advised police across France.
The Belgian newspaper DH reported that the terror alert said that the group "left Syria about a week and a half ago aiming to reach Europe via Turkey and Greece by boat without passports."
Reuters reports that a spokesman for the Belgian crisis center told them that the security threat level would not change and had no way of indicating a potentially imminent threat.
"We are still at level three, which refers to a threat that is serious, and we have been at this level since November," he said, referring to the time shortly after the attacks in Paris. "It is true that you should be careful in areas with large concentrations of people… Security has already been reinforced at all these targets. For now, there has not been a change."
The alert did not mention any particular targets in France, but the country is currently hosting the 2016 Euro soccer tournament until July 10. Reuters reports that some 2.5 million spectators are expected over the course of 51 games spread out across ten stadiums.
—
Undercovered is a new daily feature from Mediaite, bringing attention to stories that warrant more attention. If you have an idea or a tip, please email us at [email protected]
Have a tip we should know? [email protected]