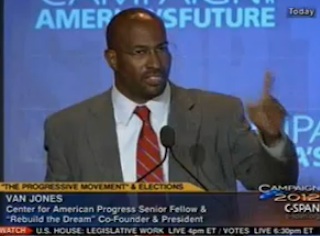 Former green jobs adviser Van Jones tore into the Keystone XL pipeline during a barn burner of a speech at the Take Back the American Dream conference on Monday and rallied young environmentalists for their victory over dirty energy, reports The Washington Examiner's Joel Gehrke.
Despite Mitt Romney's vow to build the Keystone Pipeline himself If necessary, Jones slammed the GOP for trying to shove it down America's throats.
Jones also noted that the GOP had called upon the EPA to be wiped out. "The EPA, which has probably saved more American lives in the past 30 years than even the Department of Defense. The EPA which is keeping the poison out of our childrens' bodies."
RELATED: Boehner Blasts Obama Over Approving Solyndra But Rejecting Keystone XL Pipeline
Jones added that activists need to continue their success so that "the Rodney Kings of today like Trayvon who are victimized by racial fights dont have to fight alone."
"(They have) watched the hopes of a planet be destroyed by a do-nothing, obstructionist Congress that still has not moved on climate change, that still has not moved on clean energy, that has been stuck on stupid — afraid of science now for three or four years," he continued.
"They said, 'we're not going to let them jab this dirty needle of a pipeline into America. We're not going to let them take the dirtiest energy ever created and cook it up and stick it into this country,'" Jones recalled. "Through their courage, the project was derailed."
Watch Jones tear into the GOP and the Keystone Pipeline below via C-SPAN:

Have a tip we should know? tips@mediaite.com