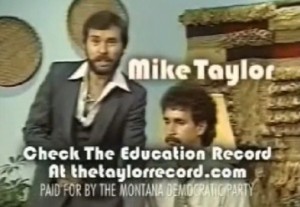 Obama campaign manager Jim Messina is the subject of a quick hit by Salon's David Sirota, who claims that a recent profile in Businessweek might implicate Messina in an illegally coordinated, wretchedly homophobic attack ad. While the Bizweek story in question does raise a few questions, it doesn't, as Sirota claims, credit Messina "with being the architect of the ad," or connect enough dots for Sirota to refer to it as "Messina's ad."
The piece centers around a legendarily gay-baiting ad that the Democratic Party ran against not-gay Baucus opponent Mike Taylor in 2002. The ad featured old footage from Taylor's hairdressing business, set to porno music and homophobic coding that had all the subtlety of ig-pay atin-lay. At the time, Baucus maintained he had nothing to do with the ad, but basically defended it. Messina was Baucus' chief of staff at the time.
Sirota leaps on two paragraphs of that recent Businessweek article to unravel Baucus and Messina, in a Salon piece headlined "Obama chief's anti-gay secret – Jim Messina's old boss once denied involvement with a homophobic ad. A new profile suggests they knew all along":
Now fast-forward to a key passage in this week's fawning Businessweek profile of Messina:

Messina will go a long way to win, as (stories) from his Montana career suggest…

The other story involved his Republican challenger, a state senator named Mike Taylor, who was the target of an ad so devastating it got national attention. The ad charged Taylor with having embezzled student loans from a cosmetology school he'd owned in the 1980s. But its force lay in the music and imagery. Set to a porn soundtrack, it featured snippets of an old television ad for Taylor's hair salon that showed the candidate clad in a medallioned, open-shirted disco outfit, massaging lotion into another man's face, and then appearing to reach toward the man's crotch, as a narrator intoned, "Not the way we do business in Montana."

"Jim is tough," Baucus says. "I'll never forget when he showed me that ad. We were in Bozeman in a motel. The curtains were drawn. He said, 'Max, what do you think?' They were afraid I wasn't going to like it. I loved it!"

So to review: To protect himself politically and legally, Baucus in 2002 insisted he knew nothing about — and had nothing to do with — the ad. Now in 2012, in his eagerness to promote his pal Messina, Baucus admits that, at minimum, he and Messina knew all about the ad — indeed, Businessweek explicitly credits Messina with being the architect of the ad, citing it as proof that he "will go a long way to win." Likewise, Baucus now admits that he wasn't unaware of the spot — on the contrary, he explicitly told his staff he "loved it."
Setting aside the fact that those two paragraphs, themselves, sound like the setup to a gay porno, there's not much going on here. Baucus said, in 2002, that he had nothing to do with the ad, not that he'd never seen it. The fact that it was his chief of staff showing it to him is significant only in that if someone other than his chief of staff was first to bring Baucus a potentially controversial ad being run on his behalf, Messina would have been fired on the spot. That's what chieves of staff do.
There's nothing in that Businessweek piece that remotely suggests that Jim Messina or Max Baucus had anything to do with creating that ad, yet by the end of Sirota's piece, he's referring to it as "the Messina ad."
Messina is not exactly beloved by the left. As White House deputy chief of staff, he and Senate Finance Committee Chair Baucus engineered that horrible Pharma deal, then ducked and covered. But like him (and Baucus) or not, it's not fair or accurate to call it Messina's ad, or to say that he was the "architect" of the ad, or that this is Jim Messina's "anti-gay secret."
It is fair to ask whether Messina also "loved" the ad, which the Bizweek piece does suggest, but doesn't say. It would also be fair, given his position as the campaign manager for the most LGBT-friendly president in history, for Messina to answer whether he wishes the tactic had not been used against Baucus' opponent, or whether he was involved in Baucus' mild defense of the ad. The Obama campaign has, thus far, declined to make him available to do so.
Here's the ad in question:
Follow Tommy Christopher (@TommyXtopher) on Twitter.
Have a tip we should know? tips@mediaite.com