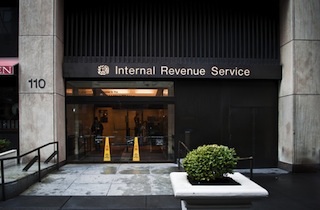 In the contretemps over the disappearance of IRS official Lois Lerner's emails, which congressional Republicans suspect contain evidence of the targeting of conservative groups, when Lerner's hard drive crashed has become of paramount importance. As Fox News anchor Greta van Susteren pointed out last Sunday, the drive crashed before the alleged targeting of the groups came to light, meaning someone would have had to be "clairvoyant" to have destroyed the evidence ahead of time.
But the discovery of a letter from House Ways and Means Committee Chair Dave Camp (R-MI) concerning the IRS' handling of 501(c)(4) groups, sent to the IRS ten days before Lerner's hard drive crashed, has raised hackles of suspicion about the fishy timing, both from members on the Hill and other Fox hosts.
On Wednesday, Washington Post's fact checker Glenn Kessler gave the claim that the letter had anything to do with the IRS scandal, initially voiced by Rep. Peter Roskam (R-IL), three Pinocchios (out of four). Per Kessler, Camp's letter actually concerned a different audit-based issue, namely a "gift tax," and did not mention conservative groups:
Recall that the issue involving Lois Lerner was the targeting of conservative advocacy groups applying for 501(c)(4) status. But this letter concerned something different — the IRS's decision to send letters to the donors of such organizations that their contributions might be subject to gift taxes. This issue had first emerged in early May of 2011, when Ofer Lion, a tax adviser, sent a notice to clients about the issue. The New York Times reported on the issue on May 12, suggesting that the IRS effort would target donors to both liberal and conservative groups. Stephanie Kittredge, a spokeswoman for Roskam, and Sarah Swinehart, a spokeswoman for the Ways and Means Committee, defended the reference to the letter on the grounds that it was the first indication that the IRS was targeting conservative groups, though they conceded the letter does not actually mention conservative groups.
Kessler added that the IRS had disclosed information about the audits in question several weeks ahead of time, thus making a quick scramble to destroy evidence less plausible.
"The timing may seem suspicious, and perhaps Roskam has every right to jump to conclusions," Kessler wrote. "But in claiming that Camp 'sent a letter on this whole issue,' he went too far in describing the contents of the letter. In fact, at least one person, Chris Wallace, was misled into thinking the letter concerned the applicants; there were probably many other listeners as well."
[h/t Washington Post]
[Image via Andrew F. Kazmierski / Shutterstock.com]
——
>> Follow Evan McMurry (@evanmcmurry) on Twitter
Have a tip we should know? tips@mediaite.com