Warren Buffett Trolls Trump: I Would Have No Problem Releasing Taxes Under Audit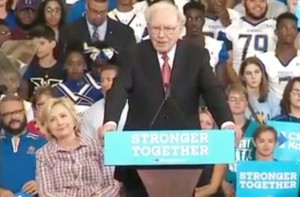 Donald Trump invoked Warren Buffett during the debate Sunday night, so the following day Buffett released a series of "tax facts" to set the record straight about income tax and Trump's returns, which he still refuses to release.
Responding to accusations that he had used a $916 million loss in 1995 to avoid paying income tax for 18 years, Trump's said during the debate:
Now, the taxes are a very simple thing. As soon as I have — first of all, I pay hundreds of millions of dollars in taxes. Many of her friends took bigger deductions. Warren Buffett took a massive deduction.
In a statement released Monday, Buffett, who supports Hillary Clinton, endeavored to make a few things clear to Trump — namely, that he did not abuse opportunities to take deductions against his income tax.
I have paid federal income tax every year since 1944, when I was 13. (Though, being a slow starter, I owed only $7 in tax that year.) I have copies of all 72 of my returns and none uses a carryforward.
Trump has refused to release his tax returns, flouting some 40 years of tradition for presidential candidates. He has said that he is under audit — an excuse that, if true, would not preclude him from releasing his taxes. Buffett drove that point home too:
Finally, I have been audited by the IRS multiple times and am currently being audited. I have no problem in releasing my tax information while under audit. Neither would Mr. Trump – at least he would have no legal problem.
You can read the complete statement here
—
Sam Reisman (@thericeman) is a staff editor at Mediaite.
Have a tip we should know? tips@mediaite.com