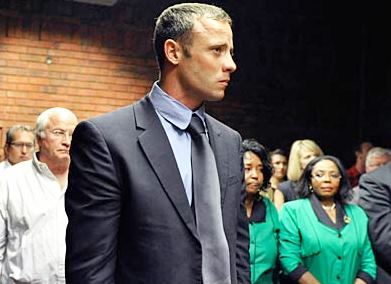 South African Paralympics medalist Oscar Pistorius has pled not guilty to the 2013 murder of his girlfriend, Reeva Steenkamp, in what South Africans are calling their "trial of the century." He is expected to take the stand again today.
Pistorius is being tried for murder and three firearms-related charges. If convicted, he faces up to 25 years. His live-in girlfriend Steenkamp was found shot to death in the athlete's home in the early hours of Valentine's Day.
During the bail hearing, Pistorius claimed he mistook Steenkamp for a burglar who had climbed in through an unprotected bathroom window. He admitted to firing four shots through the door before realizing that it was Steenkamp behind the barrier. His testimony will likely reiterate these elements.
Prosecutors, on the other hand, allege that the couple got into a heated argument, causing Steenkamp to lock herself in the bathroom. They believe Pistorius then shot her through the door out of anger. This angle will certainly come up during cross-examination.
South African law does not require the accused to testify first, but it is seen as a show of confidence in his innocence before a jury.
Watch the live feed below; check back daily, as Mediaite will continually update the feed.
NOTE: South Africa is 7 hours ahead of U.S. East Coast time.
Live feeds start at approximately 2:30AM, Eastern (United States).
— —
Watch live via the U.K. Telegraph:
Watch live from NBC:
— —
Once the Live Stream is over, you can catch up on missed portions of the April 9th session below;
Have a tip we should know? tips@mediaite.com