Watch This Boy Eat an Entire Watermelon and Become 2016's First Internet Hero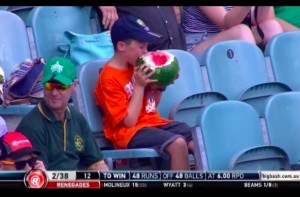 For many of us, New Year's Day is the time to heal ourselves from a rough outing the night before, or to haplessly plan our resolutions for the coming calendar year. But for one boy sitting in the stands of a cricket game in Australia, the holiday is the perfect opportunity to, you know, eat an entire watermelon and become the next greatest sensation on the interwebs.
Ten Sport TV caught this amazing footage of a kid who DEVOURS an entire watermelon while sitting casually in his hat and orange tee-shirt.
#WatermelonBoy spotted at #WBBL01! pic.twitter.com/qBDrMiambE

— TEN Sport (@tensporttv) January 2, 2016
The kid in question became a sensation as he chomped away on the fruit — from the outside — often holding it over his head like a champion holding his prized cricket trophy. Legend of the #WatermelonBoy quickly spread throughout social media:
#watermelonboy hailed a cult hero after chomping whole watermelon https://t.co/B4RaG0CiuB (Pic @theschibecsta) pic.twitter.com/QRs0bSW6oc

— SBS News (@SBSNews) January 2, 2016
And the first legend status of 2016 goes to #watermelonboy.. #Cricket pic.twitter.com/4zXsWQdu6K

— SBS Radio Sport (@SBSRadioSport) January 2, 2016
The boy is the son of Melbourne sports reporter Tony Schibeci, who has been updating his own Twitter page with the latest from the viral star…
Here is the final effort from #watermelonboy @tensporttv @mcg @BBL pic.twitter.com/XQ2blGugTA

— Tony Schibeci (@theschibecsta) January 2, 2016
…including a post-feast shot of the young prince snoozing with his mostly-eaten melon at his side:
It's been a big night for @watermelonboyau #watermelonboy. Time for sleep @tensporttv @BBL pic.twitter.com/mRg4xZoLN8

— Tony Schibeci (@theschibecsta) January 2, 2016
We will update this post with the latest in the #WatermelonBoy story.
Have a tip we should know? tips@mediaite.com