WH Chief Of Staff Bill Daley: First Three Years Of Obama Adminstration Have Been 'Brutal'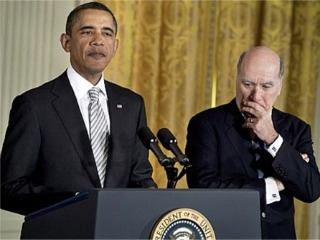 Roger Simon, Politico's chief political columnist, sat down with White House Chief of Staff Bill Daley (pictured here alongside Barack Obama) to discuss what the future might have in store for the Obama White House.
Daley noted that Obama would be "Angry! Pissed! Unhappy! Frustrated!" at the prospect of ending up a one-term president.
RELATED: President Obama Raises More Than $70 Million In Third Quarter
That said, Daley also reveals that the President maintains a realistic view of where he stands with the American public:
"Considering the debacle that he came in with, the tough choices he's made and how there have been few, if any breaks, he says it himself all the time," Daley says. "He doesn't know why he's as high as 44 percent."
Indeed, Daley characterizes the administration's first three years as "brutal" and even downright "ungodly."
The major takeaway from the interview appears to be Obama's determination to push his agenda, regardless of the anticipated reaction from Congressional Democrats and Republicans a like:
Daley slaps one hand into the other with a sharp crack. "Let's re-emphasize what powers we have! What we can do on our own! Push the envelope!"

Which is why the President has recently announced new plans to refinance homes, ease the debt burden of some college students and fast-track former military medics into private-sector hospital jobs.

Congress? He don't need no stinkin' Congress! There is an obvious downside: Both Democrats and Republicans in Congress soon will grow furious over this. But that is for the future. Obama has to address the here and now, and Congress is getting in the way of that.
The entire interview is well worth a read, and includes Daley's thoughts on being compared to his predecessor, Rahm Emanuel, recent articles hinting that Daley doesn't quite understand how Congress functions, and Daley's thoughts about Obama's re-election chances.
h/t Politico
Have a tip we should know? tips@mediaite.com