One of the most sought after secrets of the 21st century is the inner-workings of Google's search algorithm. The company keeps it incredibly private so that no one can discover how to game it and online searching will remain fair for all. However, sometimes the algorithms mysterious process leads to some interesting quirks, especially when it helpfully tries to fix what it views as users' typos. This has led Google to appear sexist in the past and, now, it looks like the search engine hates Mitt Romney for some reason.
Currently, when users attempt to search for the phrase "Mitt Romney can win," Google asks them if they meant to write "Mitt Romney can't win." Ouch.
Here's a screen grab from Slate: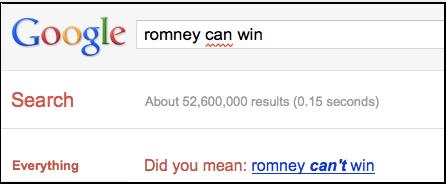 We've tested it out and that is the response we got as well. What's even more interesting is that Romney is the only candidate that that happens for. We've tried everyone (even the debaters from Wednesday's Great American Debate!) and Google has no problem with any of their chances.
Unlike the WNBA thing though, this might actually be a bad sign for Romney. Not that Google hates him, of course. But that enough people are clearly searching for that phrase that Google's algorithm thinks it's important. Interesting stuff.
Really though, I'm sure there are other candidates in the GOP race that would kill for something this small to be their only "Google problem"…
UPDATE: An earlier version of this post credited a Tumblr user with finding the glitch. It appears it was first reported on Slate.
Have a tip we should know? tips@mediaite.com