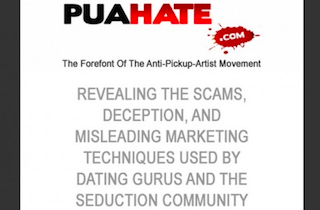 Beyond the disturbing YouTube videos and written manifesto UC Santa Barbara shooter Elliot Rodger left behind, there were also his postings on the online forum "PuaHate," which bills itself as "the forefront of the anti-pickup-artist movement."
When you visit puahate.com today, you won't find anything there. As the Southern Poverty Law Center's HateWatch blog reported Saturday, the site went offline early Saturday morning, shortly after a thread went up titled, "Puahate is about to get a massive amount of press."
So what exactly is PuaHate, the place where Rodger posted about his "race-inducing" jealousy over seeing a "black guy chilling with 4 hot white girls"? In May of 2012, Jezebel published a a profile of the underground movement, which as the image above states, aims to reveal "the scams, deception, and misleading marketing techniques used by dating gurus and the seduction community to deceive men and profit from them." Essentially, it's a place where man can go to commiserate with other man who have been left disillusioned by the supposed "art" of "picking up" women.
It is also, as the Southern Poverty Law Center has stated, a magnet for misogyny. "The self-pitying participants frequently identify themselves as 'incels' – short for involuntary celibate – and engage in misogynistic attacks on women," SLPC's Josh Glasstetter wrote yesterday. "Rodger appeared to view himself as something of an incel revolutionary."
In January, Rodger wrote:
If we can't solve our problems we must DESTROY our problems.

One day incels will realize their true strength and numbers, and will overthrow this oppressive feminist system.

Start envisioning a world where WOMEN FEAR YOU.
Glasstetter also unearthed a PuaHate post from an unnamed user that went up on the site 2:48 a.m., after news of Rodger's killing spree broke, but before the site came down:
-Elliot Rodger is a hero

-Shot people

-Is now dead

-A puahate member

Keep in mind incels, this forum is a place to "funnel" dangerous people, and is being tracked. Keep your posts mundane and your fucking terrorist attacks to yourself.
In addition to the PuaHate website going offline, the group's official Twitter account has been disabled. At this point, it remains unclear whether or not Puahate will be able to return to the internet following the mass shooting, which left seven people dead, including Rodger.
[Photo via screengrab]
— —
>> Follow Matt Wilstein (@TheMattWilstein) on Twitter
Have a tip we should know? tips@mediaite.com