White House Translation Cuts Out Just as French President Says 'Islamist Terrorism'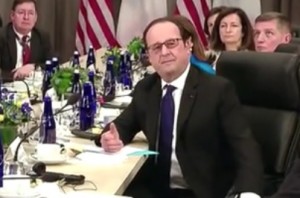 The White House translation of remarks made by French President François Hollande Thursday appeared to cut out just when Hollande began to use the term "Islamist terrorism."
"But we're also well aware that the roots of terrorism…" the translation begins, before it abruptly stops. The translation picks up again a few seconds later when Hollander says,"We note that Daesh is losing ground thanks to the strikes we've been able to launch with the coalition."
Judging by the White House transcript, the translation cut out just before Hollande used a term President Barack Obama has avoided using:
But we're also well aware that the roots of terrorism, Islamist terrorism, is in Syria and in Iraq. We therefore have to act both in Syria and in Iraq, and this is what we're doing within the framework of the coalition. And we note that Daesh is losing ground thanks to the strikes we've been able to launch with the coalition. We are continuing to support Iraq. This is also a decision we have taken, supporting the Iraqi government and making sure that they can claim back their entire territory, including Mosul.
The conservative Media Research Center, which first noticed the discrepancy, accused the White House of "censoring" Hollande's remark. The video released by the White House is only missing that segment of the translation, and the rest of 500-word speech was translated without incident.
It's possible of course that the dropped translation was just an audio glitch. But if so, the timing was very, very unfortunate.
Watch above, via White House.
[Image via screengrab]
——
>>Follow Alex Griswold (@HashtagGriswold) on Twitter
Have a tip we should know? tips@mediaite.com