Whoops!: Ambush Reporter Jason Mattera Accidentally Ambushed A Bono Impersonator
Ambush Reporter Jason Mattera Accidentally Ambushed A Bono Impersonator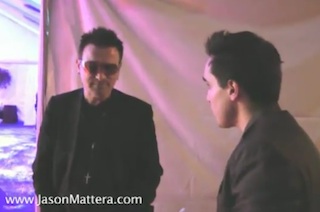 I've gone on the record as saying that I've always found something generally unpleasant about ambush journalism. I don't care if it's Michael Moore or James O'Keefe crouching in the bushes with the camera, it's always rubbed me the wrong way. That's why I was so tickled by that video the other day of the reporter walking into a traffic light pole while trying to chase down his subject. The same goes with this new video of ambush reporter Jason Mattera who has walked smack dab into a metaphorical light pole by ambushing U2 singer Bono…or, at least, a guy he thought was Bono.
Mattera, who most recently proved definitively that Chris Rock doesn't want to answer pointed questions about irrelevant comments he made a year ago, has been promoting his brand new book Hollywood Hypocrites: The Devastating Truth About Obama's Biggest Backers. As part of the promotion, he released a new video recorded last month at an event where he found Bono, pretended to be a fan, and then asked him questions about allegations that he's a tax dodger. Bono was sheepish in his responses. However, that might be because the real Bono wasn't actually in America that night.
Shortly after Mattera posted the video on YouTube and Big Hollywood, users began pointing out that the man in question doesn't particularly look or sound like the singer. One even pointed out that there was an impersonator hired to be in the building that very night.
Shortly after, the video was switched to private settings on Mattera's official YouTube page and the accompanying post was pulled from Breitbart sites.
Fortunately the video had already been uploaded to eBaum's World where it was caught by Media Matters (who also have audio of Materra promoting it on the radio show of Sean Hannity who, unfortunately, was planning on airing it on his TV show tonight).
Mediaite reached out to Bono's publicist and they confirmed that the singer was not actually in the country that night.
And The Washington Post's Eric Wemple spoke to Mattera who graciously admitted his mistake:
"Yes, he says: 'I got punked. I thought I got Bono. I didn't. I got his impersonator apparently. Hats off to him. He got me — and how!' writes Mattera in an e-mail that speaks to his sense of accountability. 'After scores of interviews with big-time politicians and celebrities, I finally got had. It was bound to happen sooner or later. On the bright side, if I'm gonna get had as good as I did, it might as well be in pursuit of one of the greatest rockers ever. While we're on the subject of me getting snookered, I'm now left to ponder: was that really Vice President Joe Biden I talked to?'"
Mattera shouldn't feel too bad though. Bono's face is always covered by giant sunglasses. I guess it could be an easy mistake to make.
Have a tip we should know? tips@mediaite.com