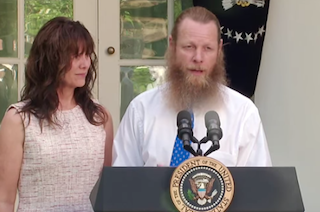 Earlier today came news that Bowe Bergdahl, who was released by the Taliban after five years in captivity, will be returning to active duty with the U.S. Army this week. Now, according to a report from the Wall Street Journal, we learn that Bergdahl has refused to see or speak to his parents since his release six weeks ago.
An army official reportedly told the Journal that Bergdahl has refused to see his parents in person or even speak to them on the phone, suggesting "a deeper estrangement between the soldier and his parents than the military understood when he was released." The military does not know the precise cause of the estrangement.
Bergdahl's parents, Robert and Jani Bergdahl, were thrust into the spotlight on the day their son's release was revealed to the public when they joined President Barack Obama in the White House Rose Garden for a press conference. Robert Bergdahl has worked tirelessly advocating for his son during the five years he was held by the Taliban, growing beard and learning the Pashto language in order to better communicate with them.
"Bowe has been gone so long, it's going to be very difficult to come back," Robert Bergdahl warned a few days after his son's release. "If he comes up too fast, it could kill him."
In early June, the Wall Street Journal cited another unnamed Army official who said Bergdahl did not want to speak to his parents on the phone from a military hospital in Germany. But it was widely assumed that they would reunite after he returned to the United States.
The Army is currently conducting an investigation to determine the circumstances of Bergdahl's disappearance from his base in Afghanistan in 2009 and subsequent capture by the Taliban.
[Photo via screengrab]
— —
>> Follow Matt Wilstein (@TheMattWilstein) on Twitter
Have a tip we should know? tips@mediaite.com