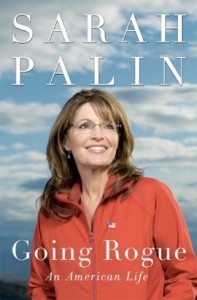 This week our favorite lady from Wasilla once again sucked the air out of the national conversation with the release of her mega-hyped memoir Going Rogue.
So who were the winners and losers of Palinpalooza?
WINNER
Sarah Palin, who not only sold a ton of books and reemerged on the national stage (to the extent she ever disappeared) but also settled scores with old foes like Katie Couric (the pitiful "perky one") and the mean McCain staffers who kept her hog-tied on the trail. Conspicuously absent: Levi Johnston.
LOSER
Sarah Palin, who has oh so much explaining to do after McCain aides struck back, calling her accounts fiction and leaking emails that seemingly discredit her entire narrative. Well, at least the parts about her Saturday Night Live appearance and that hilarious Sarkozy prank. Oh, and most Americans still think she's unqualified to be president.
WINNER
Newsweek. Maybe it was "sexist" and "taken out of context" and maybe it wasn't. Either way, featuring Sarah Palin in spandex on this week's cover was a brilliant publicity ploy. The controversy even sparked a perfectly-Palin Facebook response about not judging a book by gender or the color of its skin. Wait, what?
LOSER
John McCain. For the most part, the former presidential hopeful is suprisingly silent about Going Rogue, ignoring accusations that his campaign was a total trainwreck. He even says he "enjoyed" the book! Secretly, though, he has to be kicking himself for plucking this ingrate out of obscurity and providing her a national perch from which to trash talk him.
WINNER
Oprah. Yes it was the dullest hour of daytime television ever, but it was an hour a whopping 8.7 million of us will never get back. Palin's plug interview scored the Queen of Talk her highest ratings in 2 years, and all Oprah had to do was nod and pretend everything in the book was totally true. And Oprah wants to quit this gig?
LOSER
Joe Biden — you know, the guy who actually won the Vice Presidency. In was what clearly a second-choice booking, the veep appeared on The Daily Show Tuesday night for the first time since taking office. And he kept it relatively gaffe-free (aside from an ill-timed crack about evading New York City traffic). But amidst all the Palin hoopla, no one noticed.
WINNER
Cable news. Palinpalooza meant a mini-break from actual news and the networks pulled out all the stops! Fox got to show off their infamous crowd-inflation trick, swapping out book signing footage for old campaign B-roll and and MSNBC whipped out their favorite  photoshopped Palin pics. Both networks later apologized, but it sure was fun!
Have a tip we should know? tips@mediaite.com