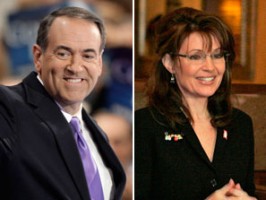 Less than two weeks ago, it seemed perfectly valid to wonder whose media influence was greater: Mike Huckabee or Sarah Palin. Now, as all of television, print and online media finishes Going Rogue, the contest no longer seems fair. Palin has absolutely pulled away, becoming as ubiquitous (or more!) than she was during the 2008 election, in a matter of weeks. But three years is a long time. Can her popularity possibly last?
Though it seems silly to compare them today, we've all heard the fable about the hare and that pesky, consistent tortoise. Could that be Huck? Mediaite's Steve Krakauer runs down the pair's media influence below with an eye on the long view. After a tumultuous Palin-filled week, the matchup can be seen in a new light.
Two of the current top contenders for the 2012 GOP nomination are Mike Huckabee and Sarah Palin, and unlike their competitors (Mitt Romney, Tim Pawlenty, maybe Newt Gingrich) they have a secret weapon – the media.
Besides being political stars, they also have huge media platforms. But who is the bigger media star?
Before we get to the tail of the tape, Politico talked to Huckabee this week and he contributed some trash talk (as trash-talky as a minister will get) for our forthcoming battle:
"Some of the people who had excoriated me and really been very dismissive of me for views that I had taken, and labeled me anything from a populist to an ignoramus – the same people have been very defensive [of] and laudatory to Sarah Palin," Huckabee noted, adding that he'd invited her to appear on his weekly Fox show but "could never get any contact."

"I'm glad she's getting the props – I know I'm not nearly as attractive."
He really just said that, right? Meghan McCain is not going to be happy about this.
Anyway, let's get it on:
HUCKABEE VS. PALIN: WHO IS THE BIGGER MEDIA STAR?
TV
He has his own weekend show on Fox News, airing Saturday and Sunday in prime time, and often is the top-rated cable news show on the weekends.
She doesn't have her own show – yet.
Radio
He has his own syndicated radio show. He's nowhere near Rush Limbaugh levels of popularity, but it provides an extra outlet.
No radio show – yet.
Publishing
His book, "A Simple Christmas," out last week, is currently #104 on Amazon.com
Her book, "Going Rogue," is out now and is currently #1 on Amazon.com
Web
He's on Twitter (45K followers), Facebook (126K supporters) and has a blog on HuckPAC.com that's updated fairly regularly. But the Twitter and Facebook feeds are mostly an aggregation of his blog posts.
She's on Twitter (13K followers) Facebook (974K supporters) and a sparse SarahPAC.com site. But her Facebook notes are widely read, circulated and reported about – she has yet to even tweet from her new Twitter account.
Interviews
Nothing that we can see on the horizon. Of course, he's on Fox News at least twice a week.
She was everywhere this week: Oprah, Barbara Walters, Sean Hannity, Bill O'Reilly and more.
References
According to TV Eyes, he was mentioned 206 times in the last seven days. (Ending Nov. 11th)
She was mentioned 3,189 times in the last seven days. (Ending Nov. 11th)
Power Grid
Yes – he's #46 on TV anchors/hosts
She's not on the Grid (obviously the most important metric)
Other
He goes through high-profile dieting, like media star Oprah Winfrey and plays the guitar.
She kills moose, and is viewed by some (like Huckabee) as somewhat of a GILF.
CONCLUSION
He is a huge media presence, and with his own TV and radio show, he has an enormous platform to cement his place as a contender for 2012.
Sarah Barracuda is an unstoppable force, with the power to out-media even the biggest media stars. SHE WINS.
—–
» Follow Steve Krakauer on Twitter
Have a tip we should know? tips@mediaite.com