Yet Another Minnesota Cop Placed on Leave for Posting About Running Over Protesters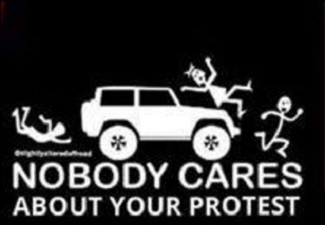 Stop me if you've heard this one. A Minnesota cop is on administrative leave after posting racist messages on Facebook, including one about running over protesters. If you're thinking "Didn't that guy just quit?", then you're overestimating the creativity of racist cops from Minnesota, because now there's another one:
This new fellow is named Ben Schlag, and he is from Rochester, Minnesota, which is smaller and even more provincial than Saint Paul, Minnesota. And Ben doesn't just hate on Black Lives Matter protesters! He also too hates Muslims! Congratulations on being a multi-faceted dickbag, Ben!
Officer Ben Schlag was placed on leave Friday after the group Rochester for Justice reported his Facebook activity to police, and posted screenshots of the posts on their Facebook page. Now, the NAACP and other local groups are calling for Schlag to be investigated and/or fired:
A Twin Cities-based group called Me to We Racial Healing sent a letter on Feb. 17 to Peterson and Rochester Mayor Ardell Brede calling for an immediate investigation of Schlag. That letter included screenshots of Facebook posts on Schlag's page. They included an image posted Nov. 17 of a car running over protesters and the words "Nobody cares about your protest." Written above the picture were the words "GET A JOB." Two days prior to the post, Jamar Clark, a 24-year-old black man, was fatally shot by police in Minneapolis. The following day, Black Lives Matter Minneapolis led a demonstration on Interstate 94 in the Twin Cities.

On Nov. 26, an image was posted on Schlag's facebook page that stated "studies show that Muslim Radicals are less prone to violence after they've been shot in the (expletive) face." Snapshots of several other posts were also shared in the letter. The group wrote that those posts "indicated significant prejudice towards black people, Muslims and civil rights activists." Those posts have since been removed from public view.
The people of Minnesota seem to have hit the equivalent of racist cop Powerball, what with two nearly identical yet completely isolated incidents like this happening so close together. Now that these two bad apples have been dealt with, I'm sure we'll have no more of these high jinks.
Listen to the report above, via Minnesota Public Radio
(h/t Wonkette)
This is an opinion piece. The views expressed in this article are those of just the author.