'You Are Part of the Problem': Donna Brazile Gets Sharp Rebuke at DNC Staff Meeting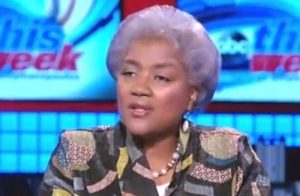 It's rally the troops time for the Democratic National Committee, in the wake of a stunning Presidential loss on Tuesday, as well as a failure to gain a majority in the Senate. But at least one DNC staff member was not yet ready to circle the wagons.
The Huffington Post reports, through two sources, that after Donna Brazile gave a rousing address to employees, a staffer (identified in the story only as Zach) questioned Brazile's ability to serve as head of the DNC going forward.
"Why should we trust you as chair to lead us through this?" Zach said
Some people in the room booed, according to the Huff Post article. But Zach kept going, taking a shot at Brazile as well as Hillary Clinton and deposed DNC chair Debbie Wasserman Schultz.
"You backed a flawed candidate, and your friend (Schultz) plotted through this to support your own gain and yourself," Zach said. He added, "You are part of the problem."
Brazile, the interim DNC chair, recently came under fire for sharing democratic primary debate questions with the Clinton campaign — which was discovered in the hacked emails released by Wikileaks. She resigned as a CNN contributor on Oct. 14. Now, it appears her other job may be in jeopardy — if, in fact, there are others like Zach at the DNC.
"You and your friends will die of old age and I'm going to die from climate change," Zach said.
[image via screengrab]
–
Follow Joe DePaolo (@joe_depaolo) on Twitter
Have a tip we should know? tips@mediaite.com
Joe DePaolo - Senior Editor