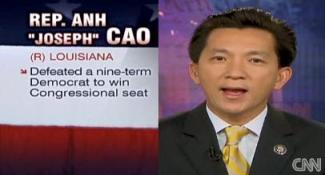 We all know the stars of the House of Representatives – Nancy Pelosi, Steny Hoyer, John Boehner.
But every few weeks one of the 435 other congressmen and congresswomen bubble up and into the media spotlight – and now it's Rep. Anh Joseph Cao's turn.
Recently, it has helped to be loud and disruptive, like Joe Wilson and his "you lie" comment or Alan Grayson and various hyperbolic statements. Also there's Michele Bachmann, whose "Super Bowl of Freedom" has helped increase her spotlight.
But Rep. Cao made his waves by casting an important vote – as the only Republican to vote 'yay' on the health care bill Saturday night.
Part of the reason the vote is so significant is it allows Democrats to say there was bipartisanship involved, and it means the GOP leaders like Eric Cantor can't claim a 100% whip-ping of his party. But also, there's what RNC Chairman Michael Steele said on ABCNews.com's Top Line last week:
Candidates who live in moderate to slightly liberal districts have got to walk a little bit carefully here, because you do not want to put yourself in a position where you're crossing that line on conservative principles, fiscal principles, because we'll come after you.
In a CNN interview yesterday (below), Cao laughed off the quote, reminding Steele how the GOP celebrated his victory just last year in a traditionally Democratic district. He said Steele "has the right to come after those members who do not conform to party lines, but I would hope that he would work with us in order to adjust to the needs of the district and to hold a seat that the Republican Party would need."
The reason behind Cao's yes-vote came after two key events occurred: first, the Stupak amendment was added, banning government funding of abortion (Cao is pro-life). Secondly, Pres. Obama made his pitch to Cao, and he promised help with recovery from Katrina. Conservatives seem to have mixed feelings on Cao's vote. Quin Hillyer of The American Spectator writes, "Conservatives need to take a deep breath, relax, and stop bashing Joseph Cao," because, "Cao did not hold out for just some ridiculous pork project favored by big-money lobbyists; he instead asked for help with local issues caused by THE GREATEST NATURAL CATASTROPHE THAT EVER HIT THIS NATION."
Meanwhile, Michelle Malkin asks, "Can't the GOP do better?" She notes Cao voted yes simply for a commitment from Pres. Obama: "You know what that's worth: Nothing."
Cao had a short interview this morning on Fox & Friends and will likely be seen elsewhere on the dial as the day and week progresses. Will he keep the backing of his GOP buddies or get Scozzafava'ed next year? Welcome to the spotlight, Joseph Cao…
Here's the CNN interview:


—–
» Follow Steve Krakauer on Twitter
Have a tip we should know? tips@mediaite.com