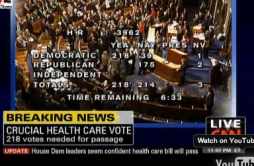 You'd be forgiven for concluding, after a weekend of celebratory headlines, that Congress's passing of the health care bill on Saturday night was the final step in the long slog that saw many ups and downs this summer. Of course, you'd be wrong. Saturday's results, which saw Congress pass the bill 220 to 215 (one Republican yea and 30 Dem nays) thanks in large part to Nancy Pelosi's willingness to throw away coverage for "elective" abortions in what is now being referred to as "the biggest turning point in the battle over the procedure since the ban on so-called partial birth abortions six years ago" still has to make it through the Senate. Judging from some reactions on the Sunday shows, it's going to be a battle, to say the least.
Lindsey Graham, the senior Republican senator from South Carolina told Bob Schieffer on Sunday that the bill, "written by Liberals, for Liberals" would be "dead on arrival."
"Just look at how it passed; it passed 220 to 215. It passed by two votes. You had [39] Democrats vote against the bill…The House bill is a non-starter in the Senate. I just think the construct out of the House and what exists in the Senate is not going to pass, and I hope and pray it doesn't because it would be a disaster for the economy and health care."
Joining the health care doomsayers is the Dems favorite nemesis from within: Joe Lieberman. Graham noted on Face the Nation that if it came down to it he would join Lieberman in filibustering the bill on the Senate floor (considering the last-minute removal of abortion coverage one wonders whether they won't both be joined by a number of women's groups).
Lieberman, on Fox News Sunday told host Chris Wallace that while there are "good things" in the bill the House passed, the public option plan is "unnecessary" and "put forward, I'm convinced, by people who really want the government to take over all of health insurance." Conclusion: Lieberman will not be voting for the public option.
Short version of all this is where the battle over the health care bill is concerned, we probably ain't seen nothing yet.

Have a tip we should know? tips@mediaite.com