You're a Wizard, Marco: Super PAC Likens Rubio to Harry Potter. Guess Who's Voldemort?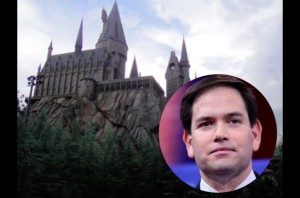 The 2016 election is weird, and the lengths to which fundraising efforts will go to sway votes are even weirder. See this actual note from a conservative super PAC that was sent to potential donors on Sunday:
"In Harry Potter lore, Voldemort, the Dark Lord, had a secret to his strength. His secret was his horcruxes. As each horcrux was destroyed, Voldemort became increasingly vulnerable, not increasingly strong. When all of the horcruxes were gone, Voldemort lost his one-on-one battle with Harry Potter."
Of course, the analogy here is that the boy-under-the-stairs Harry Potter — the good-hearted wizard on the Joseph Campbell-like hero's journey — is Florida Senator Marco Rubio, fresh off of his second place finish in South Carolina on Saturday. And since it's the Hogwarts School of Political Wizardry we're talking about here, there naturally must be a villain. Warren Tompkins and Jon Lerner who wrote the memo on behalf of Conservative Solutions PAC continued, "The media speculation that Donald Trump is unstoppable, is flatly wrong." The memo continued:
"The data consistently and overwhelmingly shows Trump with the highest unfavorables among the remaining candidates, and that he is the last choice of more voters than any other Republican by far… Like Voldemort's horcruxes, the large candidate field shields Trump from harm. At each step of the primary process, Trump is losing his shields, and that is making him more vulnerable."
So is it true then, just like in the bestselling Harry Potter series, that "neither can live while the other survives"? Time will tell just how fiercely Rubio and Trump will be forced to do battle between now and the Republican National Convention in Cleveland this July. The Real-Estate-Mogul-Who-Must-Not-Be-Named finished in first place in the Palmetto State, and the GOP field of five will be shifting its focus onto Nevada and the Super Tuesday states ahead of next week's primaries.
[h/t Politico]
[images via Wikipedia Commons and Flickr]
—
J.D. Durkin is the Senior Editor of Mediaite.
Have a tip we should know? tips@mediaite.com