Former Hillary Adviser Tweets Address of Book Store From Bannon Incident, is Accused of Inciting 'Payback'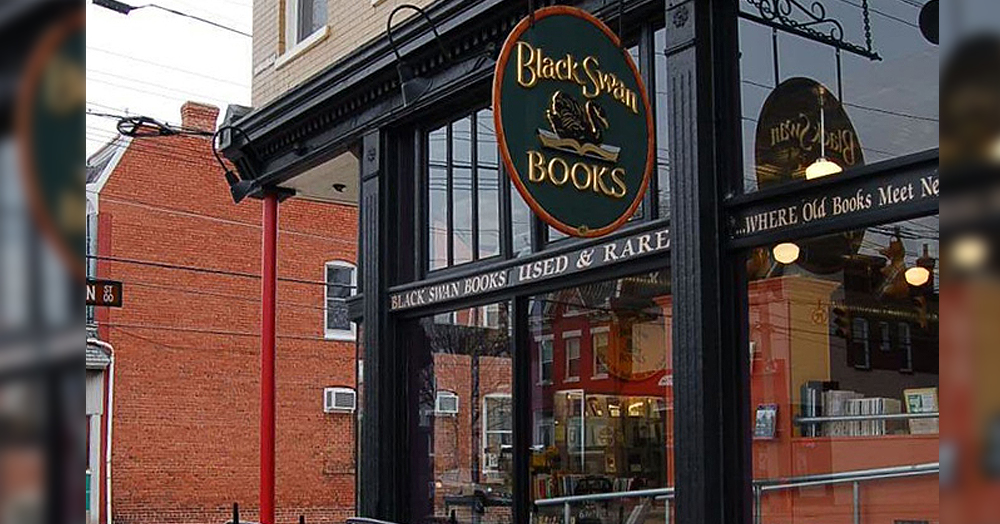 Overnight, it was reported that, when a woman verbally attacked Steve Bannon at a book store in Virginia, the owner of the store called the police to break up the incident.
In tweeting the story, former Hillary adviser Philippe Reines pointedly included the address of the store and the contact information.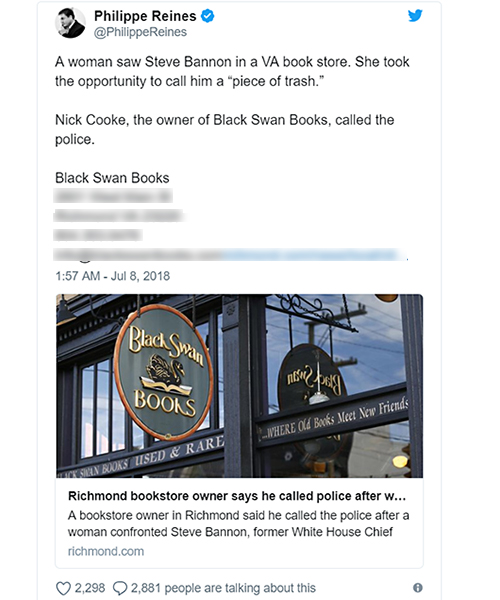 He was not alone in this. ShareBlue contributor Caroline Orr tweeted a screenshot from the book store website featuring the contact information.
Black Swan Books was one of my favorite local, independent bookstores … until they defended Steve Bannon and turned the store into a safe space for white nationalists. Bad move, Black Swan. You are now blacklisted. pic.twitter.com/hy5WHbx5Ox

— Caroline O. (@RVAwonk) July 8, 2018
There were also some posts along these lines that were deleted.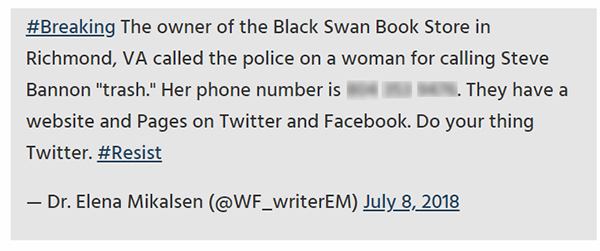 Even unrelated stores with the same name are being pulled in.
Another Black Swan store https://t.co/y8KLs6lbQe

— Dr. Elena Mikalsen (@WF_writerEM) July 8, 2018
The Daily Caller highlighted the Reines tweet, saying that he was encouraging "payback."
Former Clinton Adviser Tweets Bookstore's Address, Contact Info As Payback For Not Letting Customer Harass Steve Bannon https://t.co/MAaidM6pbi

— The Daily Caller (@DailyCaller) July 8, 2018
Reines later defended himself on Twitter, saying he was "providing a service to the public" and stating that the contact information is available on the book store's website.
The information clearly is on the website. So Reines highlighting it suggests a call to action. From the context of other tweets and even blog posts, that call to action is clear. They are suggesting that people register their displeasure with the store owner for stopping the confrontation in his store.
Rep. Maxine Waters (D-CA), Washington Post columnist Jen Rubin, filmmaker Michael Moore, and many other liberals and democrats have stated unambiguously that this should become the norm. That in any store, restaurant, or other location, anyone associated with the Trump administration should be harassed.
Now, it seems, even trying to quiet any such confrontation is equally deserving of harassment.
[Featured image via screengrab]
—
Follow Caleb Howe (@CalebHowe) on Twitter
Have a tip we should know? tips@mediaite.com
Caleb Howe - Contributing Editor