GOP Rep. Thomas Massie Deletes Tweet Comparing Vaccine Passports to the Holocaust
On Wednesday, Rep. Thomas Massie (R-KY) deleted a tweet that compared vaccine passports to the Holocaust.
The tweet was flagged by Andrew Kaczynski of CNN's KFile.
The gross tweet featured a photo of a person's arm with a series of digits on it, reminiscent of the serial numbers that the Nazis tattooed onto the arms of concentration camp inmates during the Holocaust. The overlaying text read, "If you have to carry a card on you to gain access to a restaurant, venue or an event in your own country, that's no longer a free country."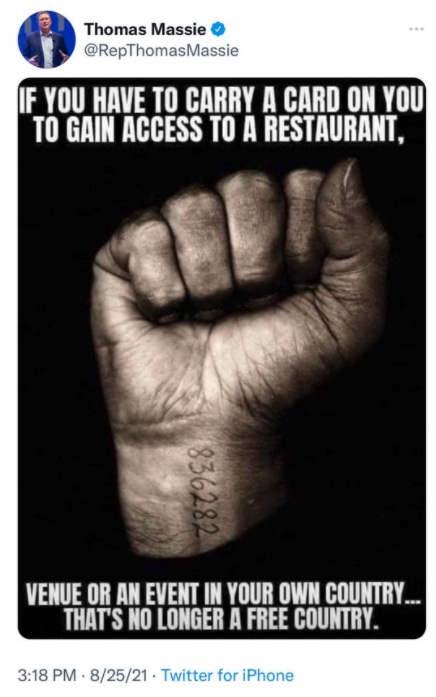 Massie isn't the first House Republican to invoke the Holocaust to rail against Covid-related restrictions. In May, Rep. Marjorie Taylor Greene (R-GA) said that pandemic precautions put into place by Speaker Nancy Pelosi at the Capitol reminded her of Nazism.
"You know, we can look back in a time in history where people were told to wear a gold star and they were definitely treated like second class citizens," she said at the time. "So much so that they were put in trains and taken to gas chambers in Nazi Germany. And this is exactly the type of abuse that Nancy Pelosi is talking about.
Massie's deleted tweet may still not be the most famous Massie moment on Twitter. In March 2020, President Donald Trump called out the congressman for his opposition to the first Covid-19 stimulus bill. Trump called him a "third rate Grandstander."
Former Secretary of State John Kerry quote-tweeted Trump and said Massie had "tested positive for being an asshole."
Breaking news: Congressman Massie has tested positive for being an asshole. He must be quarantined to prevent the spread of his massive stupidity. He's given new meaning to the term #Masshole. (Finally, something the president and I can agree on!) https://t.co/N1CNLPsZjc

— John Kerry (@JohnKerry) March 27, 2020
Trump, whose account has since been permanently suspended by Twitter, replied, "Never knew John Kerry had such a good sense of humor! Very impressed!"
Have a tip we should know? tips@mediaite.com