Ex-White House Aide Says He Caught 'Cartoon Villain' Kellyanne Conway Leaking About Trump in Explosive Exposé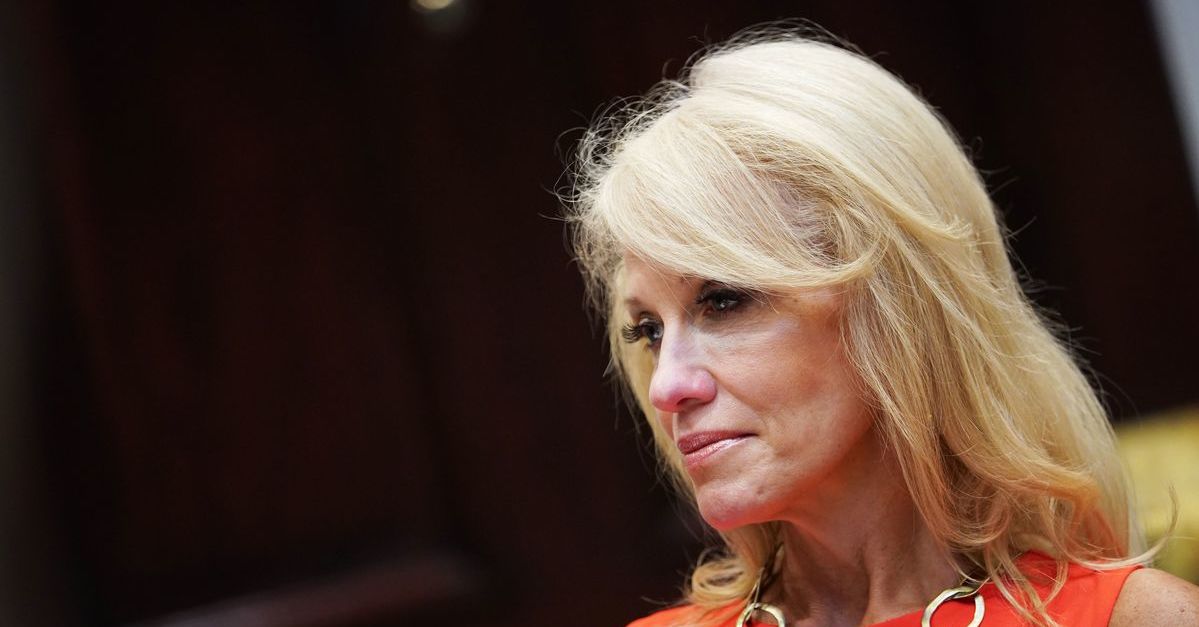 Former Trump aide Cliff Sims published an excerpt from his upcoming White House exposé in Vanity Fair, and it paints a sinister portrait of a top adviser in the administration: Kellyanne Conway.
Behold, this particularly brutal paragraph from his book, Team of Vipers: My 500 Extraordinary Days in the Trump White House:
As I watched Kellyanne in operation over our time in the White House, my view of her sharpened. It became hard to look long at her without getting the sense that she was a cartoon villain brought to life. Her agenda—which was her survival over all others, including the president—became more and more transparent. Once you figured that out, everything about her seemed so calculated; every statement, even a seemingly innocuous one, seemed poll-tested by a focus group that existed inside her mind. She seemed to be peren­nially cloaked in an invisible fur coat, casting an all-­knowing smile, as if she'd collected 98 Dalmatians with only 3 more to go.
Conway is one of the more public faces of the Trump administration, regularly appearing on cable news to offer aggressive defenses of the president's latest blunder. Just this morning, she berated a reporter for calling Trump's proposed border wall a "wall."
Sims also describes Conway's job description as nebulous.
"As counselor to the president, Kellyanne managed to land a job with no fixed responsibilities," he writes. "So she was able to continue being the president's pit bull on TV—a job that never goes out of fashion in Trumpworld—and otherwise just dabble in areas that piqued her interest."
Later on during Trump's first term, she focused her efforts on the opioid crisis and veterans' issues, according to Sims, "but early on she was content—very content—to sit back, go on TV, and let rivals eat one another alive."
"And she was predictably resentful of both Ivanka and Jar­ed's immovable status in Trump's orbit," he adds.
Sims also recounts a time when he was asked by Conway to draft a statement on her laptop. While doing so, he says, she began texting "no fewer than a half­-dozen reporters" from her phone, the messages appearing on her laptop for him to see.
In the messages, she trashed White House colleagues — "Jared Kushner, Reince Priebus, Steve Bannon, and Sean Spicer, all by name" — and spoke about the president "like a child she had to set straight."
"Kellyanne was playing a double game—putting a foot in both worlds—telling Trump and his supporters on Fox one thing, while bad-­mouthing them to the 'main­stream' media in private," Sims explained.
Read the excerpt here, courtesy of Vanity Fair.
[Photo by Mandel Ngan/AFP/Getty Images]
Have a tip we should know? tips@mediaite.com
Aidan McLaughlin - Editor in Chief