Geraldo Dubbed 'Best AM Radio Personality' by Village Voice, Tells Paper to 'Shove It'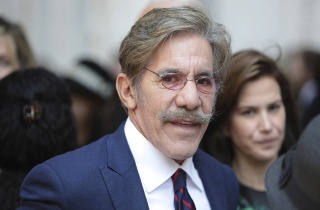 Next time The Village Voice wants to give Geraldo Rivera a compliment, they might want to do it with a smile if they expect any gratitude in return.
The New York tabloid on Wednesday dubbed Rivera the "Best AM Radio Personality" in the city. How Rivera responded on Twitter: "Village Voice says I'm top radio personality in NYC but they're so snotty saying it, they should shove it where the sun don't shine."
Well, then.
To be sure, the write up on Rivera by The Voice was bogged down with insults aimed at Rivera's "dippy laugh" and "dopey mustache." It even said that Rivera's "past missteps are more famous than his modern ideas," referring to the newsman's history of sensational reporting.
It takes all of that before the Voice gets to the niceties and purpose of the honor:
Geraldo Rivera actually has something to say. The guy understands the issues of the day and has enough confidence in his opinions to call bullshit on blowhards like Bill O'Reilly, which he often does on that toad's own show with style and red-faced grace.
At that point, is it really even worth paying the compliment? Do Voice editors punch their mothers before saying "Merry Christmas" during the holidays?
We've requested comment from the Voice's top two editors. Tom Finkel, editor in chief, tells us, "We love the guy! I'll take it as a compliment that he used a euphemism — dare I say a surprisingly lucid one? — in his acceptance tweet." He added, "I for one would love to buy a beer or six for Geraldo — I'd be honored to dab the foam off his dopey 'stache."
Village Voice says I'm top radio personality in NYC but they're so snotty saying it, they should shove it where the sun don't shine.

— Geraldo Rivera (@GeraldoRivera) October 15, 2014
[Photo via Shutterstock]
— —
>> Follow Eddie Scarry (@eScarry) on Twitter
Have a tip we should know? tips@mediaite.com