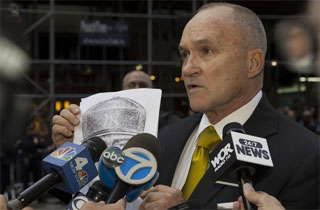 When the guy who basically created the stop-and-frisk policy calls out the Ferguson Police Department as a racist organization, as well as incompetent and unprofessional, that is a big deal.
It is "mind-boggling" that the Ferguson Police Department is overwhelmingly white, former NYPD commissioner Ray Kelly told Bloomberg News, and called for the force to increase its diversity. (The department has 53 officers, with only 3 of them African-American. Ferguson is 70% African-American.)
Other things that are mind-boggling to Kelly, who served nearly 14 years as New York City's police commissioner: that the Ferguson police are not even "trained in policing tactics," or tactics that even the military would use: "Military don't do that; that's not in their core mission."
He also criticized Ferguson police chief Tom Jackson for profoundly messing up the entire situation by not immediately releasing the name of the cop who killed Michael Brown, and dragging the fact-finding process out for days. "You tell them what you know and tell them what you don't know, rather than dribbling it out," he said, adding that the more information a community had about a controversial event, the further it would go towards "quelling or lessening disturbances."
Sadly, we can't go back in time and turn the Ferguson Police Department into a competent organization that can effectively police a small town: "The toothpaste is out of the tube here," Kelly reiterated. "There's lots of things that should have been done differently, and you have to live with them."
Kelly's tenure as Police Commissioner under Mayor Michael Bloomberg saw the crime rate in New York City drop to a 50-year low, but also garnered criticism for what some saw as race-driven tactics to achieve that end.
[Bloomberg]
[Image via lev radin / Shutterstock.com]
—
>> Follow Tina Nguyen (@Tina_Nguyen) on Twitter
Have a tip we should know? tips@mediaite.com