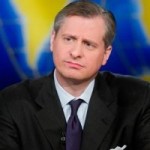 According to the Power Grid, Newsweek's Jon Meacham is the most powerful Magazine Editor in all the land. This  may come as some surprise given that the title he oversees, Newsweek, is going through a rather dramatic repositioning and redesign  – an exercise not typically taken by a healthy magazine.  But in this advertising climate,  "healthy magazine" is a term rarely heard these days. But why is Meacham number one? And what else is there to be learned from the Power Grid?
It would be very hard to argue that Newsweek is the magazine of the moment, but Jon Meacham is number one on the list for one very good reason – the publicity around their re-launch has been quite effective. Since the Power Grid combines Online Buzz (with traditional metrics like circulation and web traffic), we can only surmise that a lot of people are Googling the Newsweek Editor.  Combine that with robust online traffic for Newsweek.com,  a slew of television appearances, and a Pulitzer Prize for his biography of Andrew Jackson, American Lion, and Meacham Mania suddenly makes sense.
What else can we learn from this category of the Power Grid? It makes sense to see stalwarts Anna Wintour and Graydon Carter on the list. But it is sort of shocking that they are ranked third and seventh respectively. One can only wonder how high they'd be on this list if their digital strategy wasn't state of the art, 1998.
Also,  could the rumors of Time Inc.'s death have been greatly exaggerated? Okay, no one has been predicting their global demise, but there are some limping members of the herd that seem pretty vulnerable right now. But three (!) of the top five editors are running magazines at Time Inc: People Powerhouse is represented by Larry Hackett at number two, Sports Illustrated's Terry McDonnell comes in at four, and Time magazine's managing editor Rick Stengel comes in at five.
What explains this? Online unique vistors sets them (and other Time Inc. titles) apart from many of the other magazines on the list. It turns out that the strategy of having a robust web offering wasn't such a bad idea. Keep in mind that the revenue from these sites still represent pennies to the dollars of print ads, and sadly, that isn't likely to dramatically change for some time. But at least they have the Power Grid.
Have a tip we should know? tips@mediaite.com