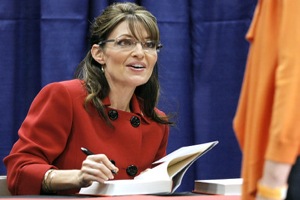 It seems like yesterday the media was in a frenzy over Going Rogue, but six months later, publisher HarperCollins is announcing that Sarah Palin's sophomore effort is officially a done deal, under the title America By Heart: Reflections on Family, Faith and Flag. America By Heart is set to take America by storm, again, next November.
The AP is calling America By Heart, which will be out on November 23rd, "a tribute to American values," with the publisher noting that it is in part inspired by the people she met during the Going Rogue book tour. Perhaps the reason for such a close release date is that unlike Going Rogue, America By Heart will not be a straightforward work by Sarah Palin (and a collaborator) but, rather, a collection of things that Sarah Palin likes. It will include "selections from classic and contemporary readings that have moved her" and "portraits of some of the extraordinary men and women she admires and who embody her deep love of country, her strong rootedness [sic] in faith, and her profound love and appreciation of family," according to HarperCollins. It will also touch on "the nation's founding documents, great speeches, sermons, letters, literature and poetry, biography, and even some of her favorite songs and movies."
Just like Going Rogue, there are plans for a book tour. According to the AP, HarperCollins has yet to sort out the details, but America By Heart will have a smaller first printing than Going Rogue and sell for $25.99. The paperback version of Going Rogue, the New York Times points out, will also be released in the fall.
Have a tip we should know? tips@mediaite.com