Trump Tells Piers Morgan He is 'A Stable Genius' Who Actually Eats 'Healthy Food'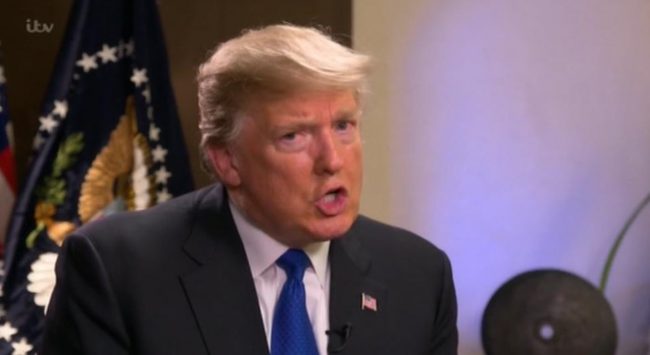 In an interview with the UK based ITV, President Donald Trump reaffirmed the claim that he is a "stable genius" and also suggested that, despite contrary reports, he actually eats "healthy food."
"I am a stable genius," said Trump to controversial British pundit Piers Morgan.
Of course, this latest quote from Trump is a double-down on his widespread tweets from earlier this month, as he referred to himself as "like, really smart" and said he is "a very stable genius."
….Actually, throughout my life, my two greatest assets have been mental stability and being, like, really smart. Crooked Hillary Clinton also played these cards very hard and, as everyone knows, went down in flames. I went from VERY successful businessman, to top T.V. Star…..

— Donald J. Trump (@realDonaldTrump) January 6, 2018
….to President of the United States (on my first try). I think that would qualify as not smart, but genius….and a very stable genius at that!

— Donald J. Trump (@realDonaldTrump) January 6, 2018
The president was inspired to post the tweets as a response to reports that his mental health was deteriorating. These claims were made popular after the release of Michael Wolff's White House tell-all in which he suggested Trump was mentally unfit to serve in office.
Wolff's book also detailed the president's diet, claiming he regularly ate massive amounts of McDonald's, KFC, and other greasy, chemical filled foods. Trump told Morgan that this was untrue, saying, "I eat fine food, really from some of the finest chefs in the world, I eat healthy food, I also have some of that food on occasion… I think I eat actually quite well."
[image via screengrab]
Follow the author on Twitter (@calebecarma).
Have a tip we should know? tips@mediaite.com